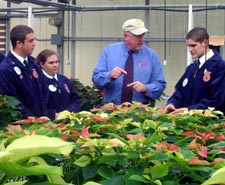 Secretary Kuperus visits with Cape May
Agricultural Education students

New Jersey Agricultural Education serves 67 certified agriculture teachers and over 2000 students in 41 school districts. The mission of NJ Agriculture, Food and Natural Resources Education is to prepare people for leadership and careers in the science, business and technology of agriculture. 



School-based Agricultural Education is a systematic program of instruction composed of three components: classroom/laboratory instruction, supervised agricultural experience (SAE), and FFA (leadership development), that provide a well-rounded and practical approach to student learning.  Secondary Agricultural Education programs are career oriented and help prepare students for a transition to college and/or full time employment  in the industry.