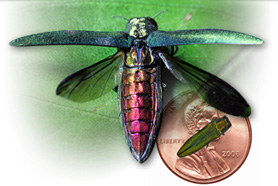 Emerald Ash Borer was discovered in New Jersey in May 2014 in Somerset County. Infestations throughout the U.S. and Canada have killed tens of millions of ash trees since 2002.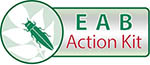 Report signs of the beetle to the Department of Agriculture at 609-406-6939.

NJ Emerald Ash Borer Contacts
Current NJ EAB Activity

As of June 2016, emerald ash borer has been found in New Jersey in Bergen, Burlington, Mercer, Middlesex, Monmouth and Somerset counties.
Click here for the downloadable map.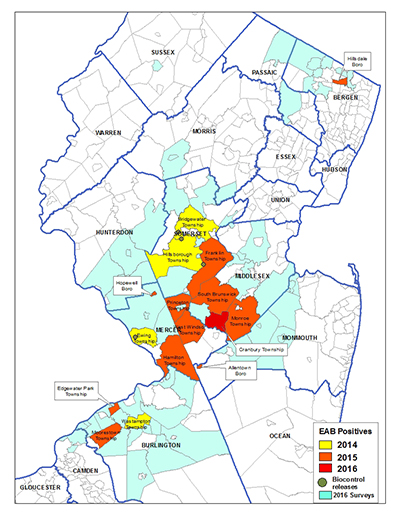 Movement of Regulated Ash Outside the Quarantine Zone

The entire State of New Jersey is under Federal quarantine for movement of EAB regulated articles. They cannot exit Federal quarantine boundaries without Federal permits. Movement of EAB regulated articles within Federal quarantine boundaries (excluding protected areas) does not require Federal permits.

Movement of Firewood