Emerald Ash Borer was discovered in New Jersey in May 2014 in Somerset County. Infestations throughout the U.S. and Canada have killed tens of millions of ash trees since 2002.
Confirmed EAB Activity in NJ
As of June 2016, emerald ash borer has been found in New Jersey in Bergen, Burlington, Mercer, Middlesex, Monmouth and Somerset counties.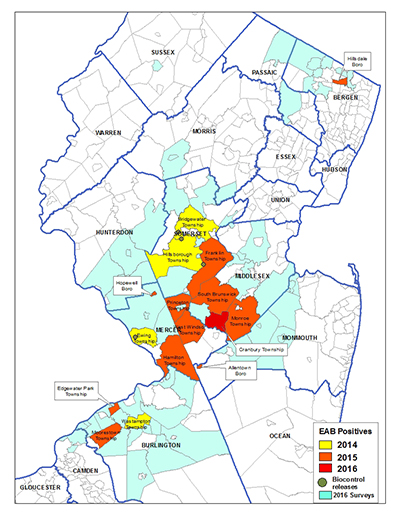 Downloadable Map (421KB PDF)
Recent Press Releases
October 8, 2015 - Tree-Killing Emerald Ash Borer Spreads to Six NJ Counties
Report signs of the beetle to the Department of Agriculture
at 609-406-6939.