BOONTON ELEMENTARY SCHOOLS HONORED FOR NUTRITION, PHYSICAL ACTIVITY INITIATIVES
Federal, State Officials Present Schools with Award

For Immediate Release: February 1, 2012
Contact: Lynne Richmond
(609) 633-2954

(BOONTON) – United States Department of Agriculture and New Jersey Department of Agriculture Food and Nutrition officials today presented two elementary schools in the Boonton School District, John Hill School and School Street School, with the HealthierUS School Challenge Award, which recognizes schools that promote good nutrition and physical activity.

The schools attained the Bronze Level of the award, which earned the district $500 per school.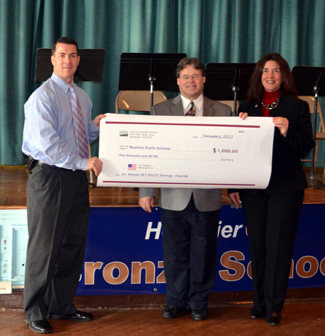 John Hill School principal Dr. Robert Sutter accepts a check from USDA representative James Harmon and NJDA repesentative Rose Tricario

"John Hill and School Street schools have done a great job making good nutrition and exercise priorities so students are equipped to do their best in school," said Rose Tricario, New Jersey Department of Agriculture Division of Food and Nutrition Director.  "New Jersey's stringent nutrition standards put all schools in the state on track to earn this award.  We encourage the schools to continue to build upon their success and reach higher levels of the award."

The HealthierUS School Challenge (HUSSC) is a voluntary national certification initiative for schools participating in the National School Lunch Program.  Sponsored by the USDA Food and Nutrition Service (FNS), the initiative encourages all schools to take a leadership role in helping students to make healthier eating and physical activity choices that will last a lifetime. 

"Achieving the HealthierUS School Challenge recognition demonstrates the Boonton school district's deep commitment to create and maintain a healthy school environment," said James Harmon, Director of Special Nutrition Programs, USDA Food and Nutrition Service.  John Hill and School Street elementary schools can serve as models for others seeking to make improvements."

The two schools feature Jersey Fresh produce in their cafeterias, introduce new healthy menu items to appeal to the diverse student body, and coordinate nutrition education to go along with what's being served in the cafeteria.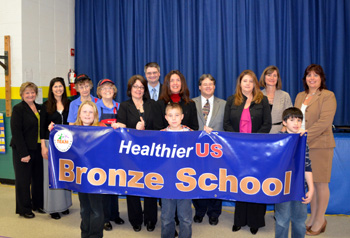 School Street School ceremony
"In such a fast-paced society, it has never been more challenging to focus on wellness," said Pamela Ranco, Boonton School Business Administrator.  "But, when it comes to children, a school district must insure that physical well-being is as much a priority as social, emotional, and academic well-being.  Physical wellness begins with both fitness and sound nutritional habits.  I am honored that our two elementary schools are being recognized for placing such an importance on serving quality food selections and valuing time for fitness-oriented activities."

The Boonton schools are among 21 in the state that have earned the HealthierUS School Challenge Award. Ultimately, FNS would like to see all schools receive a HUSSC award at any one of the four levels of superior performance:  Bronze, Silver, Gold, or Gold Award of Distinction.  Schools awarded receive a monetary incentive (Bronze $500, Silver $1,000, Gold $1,500, and Gold Award of Distinction $2,000), an award plaque signed by a USDA official, a banner to display in their school, and their name listed on the Team Nutrition Web site.

To qualify for an award, a school must submit a formal application and meet basic criteria set forth by the FNS.  The HUSSC criteria reflect the recommendations of the 2005 Dietary Guidelines for Americans, and the Institute of Medicine (IOM) published recommendations (April 2007) for foods that should be served in schools, outside of the organized school lunch meals.  HealthierUS Schools must also have a local school wellness policy, as mandated by Congress.  Schools receiving a HUSSC award commit to meeting the criteria throughout their four year certification period.

Schools, such as John Hill and School Street School, that champion the HUSSC work hard to make changes to their school nutrition environment in order to (1) improve the quality of the foods served, (2) provide students with nutrition education, and (3) provide students with physical education and opportunities for physical activity. 

For more information on the HealthierUS School Challenge, visit www.fns.usda.gov/tn/healthierus/index.html.

For more information on New Jersey's school nutrition policy, visit: www.nj.gov/agriculture/divisions/fn/childadult/school_model.html.