SECRETARY FISHER ANNOUNCES WINNER OF JERSEY SEAFOOD COMPETITION
Atlantic City Seafood Chef will Represent New Jersey in National Crown Competition in Louisiana

For Immediate Release: June 21, 2012
Contact: Lynne Richmond
(609) 633-2954

(PRINCETON) – New Jersey Secretary of Agriculture Douglas H. Fisher today declared Demetrios Haronis, Executive Chef of Fin at the Tropicana Casino Hotel in Atlantic City, the winner of the 2012 Jersey Seafood Challenge for his signature dish that featured Jersey beer-battered soft-shell crab. As the champion, Haronis will represent New Jersey at the Great American Seafood Cook-off in New Orleans in August.

"New Jersey has some of the best seafood in the nation and we know Demetrios Haronis will showcase our Jersey pride when he represents the Garden State in New Orleans later this summer," said Secretary Fisher.  "Congratulations to all the competitors who prepared an outstanding lineup of dishes that demonstrated the superior quality of our bountiful Jersey Seafood and Jersey Fresh produce."

Growing up in Wildwood and Cape May, Haronis said he developed a great appreciation for Jersey Seafood, especially since his father was a chef.  As Executive Chef of Fin, Haronis focuses on local ingredients, as he did with his competition entry.

"It was real food with good flavors," Haronis said of his creation that included Jersey Fresh sweet corn and other local produce.  "You pretty much can't go wrong if you keep it simple.  We will do well in New Orleans.  We have some of the best product in the world in New Jersey."

Haronis began his career in the restaurant industry, working in his parents' Wildwood restaurant.  After school, he worked in many notable establishments up and down the Jersey coast.  He attended the Academy of Culinary Arts at Atlantic-Cape Community College and went on to work at the Tropicana in Atlantic City as a sous chef, working his way up to Executive Chef at Fin, which opened two years ago.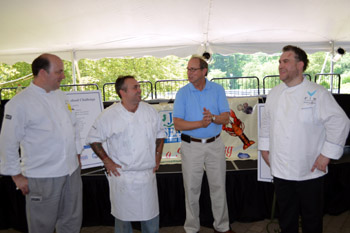 Chef Will Mooney, Chef Bradley Boyle, Secretary Fisher and Chef Demetrios Haronis.

Other chefs who participated in the cook-off coordinated by the New Jersey Department of Agriculture included: Chris Baulo, Scarduzio's at the Showboat Hotel and Casino, Atlantic City; Bradley Boyle, Salt Gastropub, Stanhope; Peter Ingrasselino, Masina Trattoria, Weehawken; Sofia Karakasidou, Kuzina by Sofia, Cherry Hill; Jack Koumbis, Assembly Steak House and Seafood Grill, Englewood Cliffs; Will Mooney, The Brothers Moon Restaurant, Hopewell; and Terry Strong, Mediterra Restaurant, Princeton.

The Jersey Seafood Challenge took place at the Governor's residence, Drumthwacket, in Princeton and was sponsored by the New Jersey Restaurant Association, the Garden State Seafood Association, Anheuser Busch, Atlantic-Capes Fisheries, Barney's Dock, Dock Street Seafood, Fisherman's Dock Co-op, LaMonica Fine Foods, Lund's Fisheries, The Lobster House and Viking Village.

Second runner-up in the competition was Will Mooney of The Brothers Moon Restaurant and third runner-up was Bradley Boyle of Salt Gastropub.


The Great American Seafood Cook-off is limited to 20 chefs with the champion being named King or Queen of American Seafood. The cook-off is televised by the Food Network and is part of the Louisiana Foodservice Expo.  The event will take place on August 11 in New Orleans.

Judging the competition were: Jennifer Monaco, Club Managers Association of New Jersey; Jim Weaver, President, New Jersey Slow Food Movement; Gary Giberson, Lawrenceville School Food Service Director; Ed Coss, Milford Oyster House; Nancy Brannigan Painter, Edible Jersey, Editor and Publisher; Gef Flimlin, Rutgers University Marine Extension Agent; Frank Benowitz, Chef/Instructor at Mercer County Community College; Greg DiDomenico, Executive Director of the Garden State Seafood Association; and chef Peter Fischbach, New Jersey's Great American Seafood Cook-off representative 2008-2010.

Also on hand was Michael Deeg of The Salt Creek Grille in Princeton, who created The Shawshank, the winning cocktail of the 2012 New Jersey Restaurant Association's Mixologist of the year competition.

New Jersey's seafood industry positively impacts the Garden State economy in many ways.  In 2010, New Jersey fishermen reeled in 162 million pounds of seafood in 2010, valued at $178 million.  It is estimated these landings generated a billion dollars of economic activity.  The industry also generates thousands of jobs, with 2,500 commercial fishermen, and 1,500 employed by 109 seafood processors/dealers. 

Home to six major fishing ports, Cape May/Wildwood was the second highest commercial fishing port on the East Coast and 11th nationally with 43 million pounds of fish landed, worth $81 million.

New Jersey fishermen land more than 100 varieties of finfish and shellfish. New Jersey's most valuable fisheries in 2012 were sea scallops ($109 million), surf clams/ocean quahogs ($24 million) and blue crabs ($12 million), according to the National Oceanic and Atmospheric Administration (NOAA).

The popularity of Jersey Seafood has spurred the creation of a Community-Supported Fishery group called "Sea Salt" in Galloway Township, similar to Jersey Fresh's Community Supported Agriculture.  With this CSA for fish, coastal residents can pre-purchase a share of seafood caught by New Jersey fishermen.  The movement is coordinated by Rutgers Cooperative Extension and supported by the New Jersey Sea Grant Consortium.  For more information, visit http://njseagrant.org/publications/news/280-seafood-share-program-catches-on.

For more information about New Jersey seafood, visit the Jersey Seafood website at www.jerseyseafood.nj.gov.