HADDONFIELD SCHOOL PREMIERES NEW SALAD BAR DURING JERSEY FRESH FARM TO SCHOOL WEEK
For Immediate Release: September 27, 2012
Contact: Lynne Richmond
(609) 633-2954

(TRENTON) – New Jersey Department of Agriculture's Division of Food and Nutrition Director Rose Tricario today visited Elizabeth Haddon Elementary School in Haddonfield to see its new salad bar, tour the school garden and taste some dishes prepared with produce from the garden.  The visit is part of the second annual Jersey Fresh Farm to School Week.

"Elizabeth Haddon School is a successful model on how a school garden can be integrated into the curriculum, as well as the school cafeteria," said New Jersey Secretary of Agriculture Douglas H. Fisher.  "Children are learning the value of eating fruits and vegetables and hopefully will go on to live healthier lives."

Today was the first day the students at the school used the new salad bar.  They tasted salsa, made with tomatoes, green peppers and fresh herbs from their garden and chocolate mint black bean brownies, utilizing chocolate mint from the garden.  After the children tasted the two items, they voted for the item they liked best.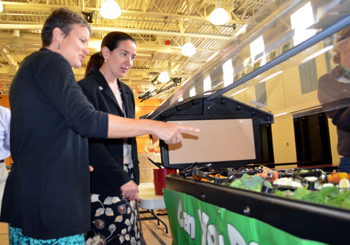 Beth Feehan, NJ Farm to School Network Director, and Rose Tricario, NJDA Food and Nutrition Division Director, look at the healthy choices on the new school salad bar.

"When the children first saw fresh produce coming directly from their garden onto the salad bar they were in amazement," said Dana Gollotto, school Food Service Director.  "The children were so anxious to try anything they grew, even raw chives."

The Elizabeth Haddon School Garden was the first in the Haddonfield School District and was created by a team of volunteer parents, teachers, students and the school principal.  It consists of eight raised vegetable beds in addition to three butterfly and herb gardens.  The gardens serve as an outdoor classroom to enhance the existing curriculum and provides for hands-on learning experiences for the 16 classes in the school.  During the summer, school families volunteer to tend the garden.

Last school year, Elizabeth Haddon School was selected to participate in a pilot project through food service management company Nutri-Serve for a salad bar and organic/farm-fresh school lunch program in collaboration with the National Farm to School Network.  The program includes healthy meal options, agriculture, health and nutrition education and supports local farmers.

Gollotto said the students have regular tastings of items they pick from their garden during salad bar events.  And when something in the garden is ready to be harvested, it is incorporated into a dish on the lunch menu, such as grape tomatoes recently turned into a tomato basil salad.

Last year, Governor Christie signed legislation designating the last week in September each year as Farm to School Week in New Jersey to promote the state's agricultural industry, demonstrate the health benefits of eating fruits and vegetables and show children and their families the connection between a healthy diet and success in school.

Jersey Fresh Farm to School Week is an initiative of the New Jersey Department of Agriculture in cooperation with the New Jersey Farm to School Network.  In addition to connecting schools with New Jersey farmers to purchase local produce for school meals, the farm to school program also seeks to teach children where food comes from by growing it themselves in school gardens. 

For more information on the Department's Farm to School program, visit www.nj.gov/agriculture/divisions/fn/childadult/farm_to_school.html.

To learn more about the New Jersey Farm to School Network, go to www.njfarmtoschool.org/.