Technology of the Month
GEOTHERMAL HEAT PUMP SYSTEMS
Geothermal Heat Pump systems, sometimes referred to as Ground-Source Heat Pump (GSHP) systems, are HVAC systems with nominal operational energy and maintenance requirements. GSHP systems use the relatively constant temperature of the subsurface as a thermal reservoir for transferring heat. These systems are different from Direct Source Geothermal or Enhanced Geothermal Systems, which utilize very hot hydrothermal waters for heating and electricity generation.
GSHPs can be used for space heating and cooling, as well as heating water for various purposes. Overall, the efficiencies for GSHPs are higher than Air-Source Heat Pumps, since the ground mean temperatures are more stable than seasonal air temperatures. GSHP systems have been in use for over 70 years, with mounting research validating its long-term cost savings and environmental benefits. It is a well-established technology that should be considered for sites with high heating and cooling needs. GSHP systems can complement existing HVAC components and may prove to be the economical solution for a variety of sites.
The GSHP systems that seem to work well in New Jersey are either a closed loop (vertical or horizontal) design where the ground is used as the heat source or heat sink, or an open loop design where water from aquifers act as the heat source or heat sink.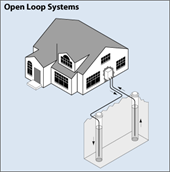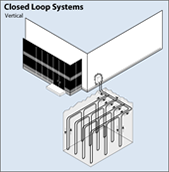 Figure 1. Examples of Open and Closed Loop Geothermal Heat Pump Systems
(Images from: energy.gov/energysaver/geothermal-heat-pumps)
If properly designed and installed, a GSHP system could be a viable energy efficiency option as it can satisfy an entire facility's heating and cooling needs. Environmental benefits can be realized by the reduction of emitted greenhouse gases and criteria pollutants through lower electricity usage from the grid and the elimination of on-site fossil fuel combustion.
For more information regarding Geothermal Heat Pump systems designs, tax credits, rebates and Sustainable Jersey for Schools certification, visit:
http://energy.gov/energysaver/geothermal-heat-pumps
http://www.njcleanenergy.com/residential/programs/cooladvantage/cooladvantage-program
http://www.njcleanenergy.com/commercial-industrial/programs/nj-smartstart-buildings/application-forms/application-forms
http://www.sustainablejerseyschools.com/actions-certification/actions/#open/action/60