Office of Policy and Economic Analysis
New Jersey's Clean Energy Picture - Electricity Generation

New Jersey is a leader among the states in reducing emissions from the electric power sector, and our 2011 Energy Master Plan reflects New Jersey's continued leadership in this area.
From 2001 to 2012, New Jersey achieved a 33% reduction in CO2 emissions from the fossil fuel sector, while decreasing our reliance on coal by more than 80%. During that same period, New Jersey invested an estimated $3.27 billion in renewables and energy efficiency measures.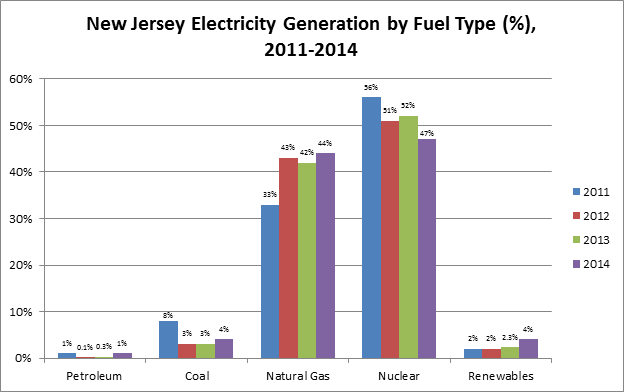 New Jersey's in-state electricity generation is among the cleanest in the nation, with almost 50% of in-state generation coming from nuclear, as shown in the figure above. New Jersey's existing fossil fuel generation sector is already well below USEPA's proposed limits for new fossil power plants, which requires an emission rate of 1,000 lbs CO2/MWh for natural gas fired facilities and 1,100 lbs CO2/MWh for coal fired facilities. New Jersey's existing natural gas combined cycle generation units emit 973 lbs/CO2 per MWh. New Jersey's existing "affected units," as defined under USEPA's proposed Clean Power Plan rule (coal and natural gas units >25 MW), emit 1,035 lbs CO2/MWh.