Office of Sustainability
Envisioning a Sustainable Future
Where will our vision for a sustainable New Jersey take us in 2116 or longer to 2216? Where will the inventions of today take us in the future?
Here are a few examples of inventions listed in Time Magazine's list of the 25 Best Inventions of the Year 2013, 2014 and 2015: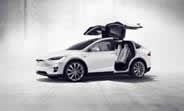 Tesla's Model X, unveiled in September, marks a leap toward a reality in which electric cars aren't simply exotic, but just as useful as their competition. The world's first luxury electric SUV can go 250 miles on a single charge, Tesla says, and haul seven passengers. It features futuristic back doors that open like the wings of a bird (up, not out). And the Model X is a blast to drive: it can hit 60 m.p.h. from a standstill in 3.2 seconds, and its battery pack gives it a low center of gravity, enabling sports-car-like handling. That's rare for any SUV, let alone one that runs on clean power.) For Tesla, more than one model is under development. As CEO Elon Musk put it during the Model X unveiling: people need to know "that any kind of car can go electric."

The Personal Pollution Detector - TZOA Environmental Tracker In order to avoid potentially harmful pollutants and allergens it helps to know about the air you're breathing. That's where Tzoa comes in. This stationary device, developed by electrician Kevin R. Hart, uses sensors to evaluate the atmosphere in any given area—measuring factors like temperature, particulate matter (dust, pollen, mold, car exhaust) and UV exposure—and uploads that data to the cloud, so that institutions like Johns Hopkins can conduct air quality research. The company plans to launch wearable versions in 2016 that offer a similar service, allowing consumers to chart specific walking routes, for example, if they want to avoid pockets of pollen.
Wireless Electricity - WiTricity, based in Watertown, Massachusetts, developed a plugin coil that creates a magnetic field, which in turn powers objects as far away at 8 ft. Within 10 years, rooms could be wired so that all appliances – lamps, TVs, stereos – pull power from a central charging base.
A Reactor that Could Realize Nuclear Fusion - Nuclear fusion – The production of energy from the fusion of hydrogen nuclei has always been the holy grail of energy: it's endlessly productive and largely clean – and so far, it's remained elusive. But in October 2014, Lockeed Martin said it had achieved a technological breakthrough that will enable it to make compact fusion reactors small enough to fit on the back of a truck within a decade.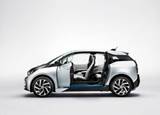 The Car That Makes Electric Enticing – BWM i3 -- For the most part, electric cars have been slow, sexless and stolid to drive—or stunningly expensive. So when BMW, the self-described maker of "the ultimate driving machine," announced it would start selling them, it had a high bar to clear. The i3 delivers. In addition to getting 70 to 110 miles (113 to 177 km) on a single three-hour charge, its novel design allows drivers to use a single ­pedal to both accelerate and brake (press down to go, ease up to stop), which results in more energy-efficient driving. And because so-called range anxiety—the fear of running out of juice on the road—remains a top reason people don't buy electric, BMW is pioneering ways to ease customers' doubts. Among them: an optional backup gas motor that can recharge its batteries in a pinch and a program that lends owners a gas-powered vehicle for longer trips.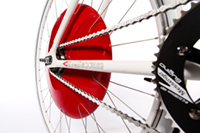 The Wheel that Gives Bikers a Boost - We know that biking is good for us and good for the environment. But getting around on a bicycle can seem daunting, especially in a large city with hilly terrain. To lessen that burden, Cambridge Massachusetts based Superpedestrian has developed the Copenhagen Wheel, a standard-size wheel that can be attached to the back of most bicycles that boasts a rechargeable, battery-powered motor.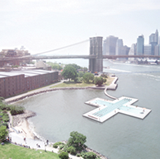 The Plus Pool is an Olympic-size pool - designed to float in the less-than-crystal-clear East River, the Plus Pool kills two birds with one stone: it cleans the river water and gives New Yorkers a place to swim. Its unique filtration system scrubs the water as it floats through it, while its distinctive plus-sign shape isolates different wings for different activities.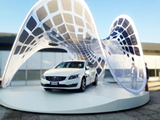 Volvo's Solar Pavilion - When Volvo challenged designers to create a showcase for its new V60 hybrid, the winning entry, by the firm Synthesis Design & Architecture, was a spectacular flexible solar panel that charges the car and folds up to fit in the trunk. It's not for sale yet, but testing is ongoing.