Public Health
and Safety
Ecological Health

Bureau of Marine Water Monitoring

The goal of the Pollution Source Tracking program is to have a targeted response to improve water quality that is degraded because of non-point source pollution and coastal sewage infrastructure failures. In general, the Bureau manages this program by following the 5 steps outlined below in the pyramid.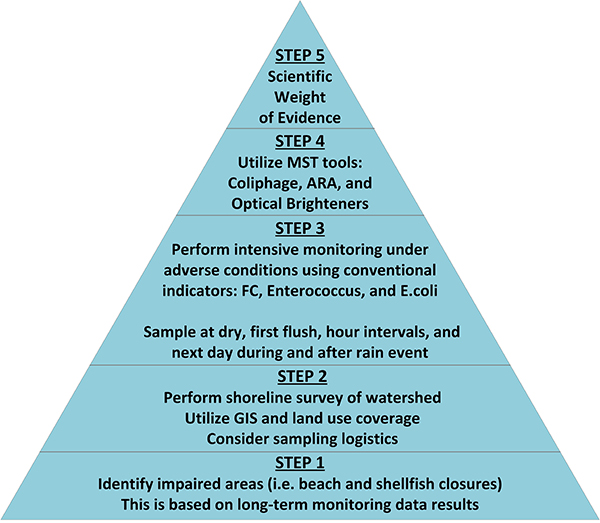 STEP 1
The Bureau identifies potential Pollution Source Tracking Projects that are within marine waters used for recreational bathing and shellfish harvesting. Through routine monitoring, areas shown to have degradation of water quality due to Enterococcus or Fecal Coliform bacteria become targets for pollution source track down work.
STEP 2
Once an impaired area has been identified, internal and external partnerships are formed to improve communication. This is done to create ownership and ensure all stakeholders are working toward the same goal of improving water quality while leveraging available services and funding sources.

Comprehensive sanitary surveys at the local level are performed. This is done through a combination of site visits and use of Geographical Information Systems (GIS). Statistical analysis of existing data is done to identify conditions that typically produce elevated pathogen levels. Wet and dry conditions, along with tide stages are all carefully evaluated. Storm water outfalls, tidal tributaries, and any flowing discharge are all evaluated to carefully select monitoring site locations for the project.
STEP 3
Intensive monitoring is performed at stations under varied conditions. Sampling is performed during both dry and wet weather periods, and throughout tide cycles. Wet weather sampling consists of pre-rain sample collection, a 'first flush' which is when runoff is first generated, and at 1 and 2 hours after the first flush. Data results (Enterococcus, E. Coli, or Fecal Coliform) indicate how far the pollution source is from the samples taken. This information enables the bureau to refine the sampling network as they continually hone in on the pollution source.
STEP 4
Samples with high bacteria levels are sent to the bureau's advanced Microbiology Laboratory. Advanced alternate indicators such as: Male Specific Coliphage (MSC), Antibiotic Resistance Analysis (ARA), and Human Bacteriodes, to determine the pollution source (human, wildlife, domestic animals) will be performed.
STEP 5
When the problem has been identified, a fix or alteration will be performed by the local municipality. Once complete, follow up testing will be done to confirm that the fix has resolved the problem. Finally, additional monitoring over the long term will be conducted to ensure pollutant levels have remained low.
Recent Pollution Source Trackdown Studies Include:
Problem
Wreck Pond is a coastal lake in Monmouth County that flourished with recreational activities such as fishing, crabbing, sailing, rowing, swimming and rafting in the 1960s. Over the past several decades, recreational activities have been limited to occasional crabbing due to water pollution from stormwater runoff and the filling in of the lake from sedimentation. When it rains, this degraded water flows into nearby Spring Lake and Sea Girt beaches causing beach closings.
Response
The Department developed the Wreck Pond Restoration Action Plan in conjunction with the Wreck Pond Brook Watershed Regional Stormwater Management Plan Committee.
Monmouth County Department of Public Works and Engineering installed 14 stormwater manufactured treatment devices in Wreck Pond Watershed with a CBT and 1985 Wastewater Treatment grants.
These grants also funded the Department approved Wreck Pond Watershed Restoration Implementation Plan, the design and feasibility study for the living shoreline and berm, a fish study conducted in the Spring and Fall of 2014 by American Littoral Society, and a review of the Manufactured Treatment Devices.
Monmouth County has conducted four phases of dredging Wreck Pond removing more than 80,000 cubic yards of sediment.
In 2013, Spring Lake Borough installed a Sluice Gate on the existing outfall and reconstructed a berm as a coastal flood protection measure. Project was paid for by a FEMA Hazardous Mitigation Grant at 75% and the remaining 25% by Spring Lake Borough.
The Bureau has conducted years of wet weather monitoring throughout Wreck Pond and the adjacent beaches, including two intensive continuous 48 storm studies.
Results indicated elevated levels of bacteria in the pond near the outfall coming from the adjacent ditch which discharged stormwater from Ocean & Brown Avenues. Using Antibiotic Resistance Analysis (ARA) it was determined that a human source was contributing to the bacterial pollution.
The Borough received a $525,000 Environmental Infrastructure Trust principal forgiveness loan to conduct repairs and replacements revealed during 2013 EPA funded infrastructure assessment. Improvements were completed in Spring 2014.
A second outfall (5.5'x8'x600') concrete culvert was completed in November 2016 to reduce flood risk to the surrounding community, improve water quality and aquatic conductivity using a US Fish & Wildlife Service - Department of Interior Grant, US Department of Housing and Urban Development, Community Development Block Grant (CDBG)-Disaster Recovery Program Flood Hazard Risk Reduction and Resiliency Grant, CBT Grant and funds from the Borough of Spring Lake. The outfall is outfitted with a knife gate to prohibit coastal surge.
In February 2015, the Borough was awarded $130,000 DOI/NFWF planning grant to engineer and permit 900 feet of living shoreline.
An additional 6,000 linear feet of living shoreline and vegetative berm also being funded by the US Department of Housing and Urban Development, Community Development Block Grant (CDBG)-Disaster Recovery Program Flood Hazard Risk Reduction and Resiliency Grant is currently in the planning and engineering phase.
Outcome
Since the infrastructure improvements completed in the Spring of 2014, bacteria levels have been lower in the pond and Antibiotic Resistance Analysis (ARA) indicated that there is no longer a human source.
The Wreck Pond Rainfall Provisional Closing Policy that required the four (4) adjacent Wreck Pond beaches in Spring Lake and Sea Girt to close for 24 hours after every 0.1" of rain was removed starting with beach season 2014.
For more information on Wreck Pond,
click here
.
Problem
The recreational bathing beach standard for enterococcus was exceeded on 6/5/2017 and 6/6/2017, resulting in a closure of the 'Highlands Rec Center' beach in Monmouth County. Results were considered very high (920 and 390 CFU/100ml, respectively). Analysis found an association between enterococcus results and rainfall conditions.
Response
Monmouth County Health Department (MCHD) requested assistance from the Bureau to conduct a joint sanitary survey in the area surrounding the 'Highlands Rec Center' beach. A flowing storm water outfall was found to be entering Mary's Creek which drains out next to the bathing beach. It was found the outfall originated from the intersection of Water Witch and Linden Avenues.
Sampling was conducted by the Bureau on 6/15/17, 6/19/17, and 6/26/17 from points along the storm water infrastructure network and Mary's Creek.
Results indicated elevated levels of bacteria in Mary's Creek near the storm water outfall. Using Antibiotic Resistance Analysis (ARA) it was determined that a human source was contributing to the bacterial pollution.
In collaboration, BMWM, MCHD, Monmouth County Engineering Department, Borough of Highlands, and Monmouth County Regional Health Commission conducted dye testing of the sanitary sewage infrastructure and video of the storm water system.
Dye testing of the sewage infrastructure on Linden Avenue revealed a sanitary sewage leak impacting the storm water infrastructure at the Water Witch and Linden Avenues intersection.
The Borough of Highlands conducted video of the sanitary line and found that two areas had cracks and joint separations.
These repairs were completed on 7/6/2017.
Outcome
After repairs were made follow up samples confirmed the fix was effective.
The 'Highlands Rec Center' beach reopened on 7/11/2017.
The pre-repair enterococcus geometric mean for this beach was 53 CFU/100ml, exceeding the criteria of 35 CFU/100ml. The post-repair enterococcus geometric mean for this beach was 23 CFU/100ml.
Problem
Beachwood Beach West is a recreational bathing beach in Beachwood Borough, Ocean County. This beach is located on the Toms River and has frequent beach closures due to the exceedance of the recreational bathing beach standard. These closures have been associated with rainfall conditions and the waters of this beach are impacted by as little as 0.1 inch of rain.
Response
The Bureau conducted a sanitary survey to identify potential sources of pollution, both upstream and downstream of the bathing beach area. Sampling stations were strategically picked to represent potential problem sources identified in the sanitary survey.
Fourteen (14) stations were sampled over ten (10) sampling events. Samples were collected during dry weather, tide cycles, and intensive wet weather storm events.
The results identified two nearby storm water outfalls as the main contributors of bacterial pollution at the beach. In addition, it was found that the tidal movement and shoreline configuration held the water near the beach area resulting in a longer duration for closures.
Beachwood Borough, working with Ocean County, looked at a plan to connect the two outfalls and relocate the discharge away from the beach.
The Bureau, Beachwood Borough, and the US Food and Drug Administration (USFDA), conducted a dye test to evaluate the impact to the beach from the existing outfall location. A second dye test was also performed to evaluate what would happen if the outfalls were relocated to the proposed location.
The dye test results showed that the discharge from the proposed outfall location would reduce the pollution impact at the beach. In addition, it also showed that the shoreline configuration near the existing outfalls held the water near the beach due to an eddy.
Beachwood Borough conducted video of the sanitary line and two areas of cracks and joint separations were found. Repairs were performed on 7/6/2017.
Outcome
The outfalls were relocated east of the beach area with funding through the Environmental Infrastructure Trust program.
There is a reduction in the number of beach closures during rain events that total less than 0.5 inches.
While closures still occur at this beach, they are often associated with rain events larger than 0.5 inches. This is because other sources along the Toms River still have an impact during these larger storm events. Toms River is still under study to further reduce pollution due to storm water runoff.