New Jersey's shore and riverfront communities are diverse, active places, where people come to enjoy being in close proximity to the water. This is clearly evidenced by the millions of tourists who come to the shore each year to relax on the beach, walk the boardwalks, enjoy our piers, and dine in restaurants along our waterways. It is also evident among those who fish in our waters—along bridges and pocket parks as well as from shorelines—and among boaters of all types who navigate our waters for recreation and who depend on access to the water.
The environmental health and public accessibility of the ocean, shore and tidal waterways are inextricably tied to New Jersey's economic health. Tourism, mostly tied to shore communities, is a $38 billion per year industry in New Jersey. Our proximity to the Atlantic Ocean and other tidal waterways is an enormous contributor to the quality of our life in our state. It is in everyone's best interest to preserve, protect, and make them available.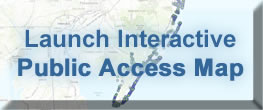 Public Trust Doctrine Ensures Access
The public's right to access tidal waters and their shorelines, embodied in the Public Trust Doctrine, has existed prior to the inception of the State of New Jersey and continues to this day. The Public Trust Doctrine is the principle that certain resources, in this case tidal waters and shorelines, are preserved for public use, and that the government is required to maintain them for the public's reasonable use. Subsequent court cases have interpreted and implemented its strictures, and many legislative acts and regulatory provisions rely on the Doctrine to protect and enhance access. The Department of Environmental Protection has long seen protecting this right as a vital part of our mission. We require public access to the shore and tidal waterways under the Coastal Permit Program and the Coastal Zone Management rules.
A New Approach to Optimizing Public Access
The Department has recently revised how it requires public access under the Coastal Zone Management rules, for several reasons:
The DEP believes we can provide more comprehensive public access not only by continuing to impose reasonable regulatory requirements, but also by employing additional measures, such as working with local governments, eliminating unnecessary burdens on residents, businesses, and governmental entities and by bringing other resources to the process.
The courts have struck down some provisions of the existing rules.
The Legislature has put a moratorium on implementation of provisions requiring marina access.
The Department's more progressive approach reflects the Administration's emphasis on using common sense principles in State agency regulations (Governor Chris Christie's Executive Order No. 2). The Department has also solicited the input of a variety of stakeholders, who have made plain that public access can be best enhanced by recognizing the different geographies of the State, the different needs of the public and the value of working with local governments who best understand local conditions and priorities.
This new approach, formalized through the adopted rules, implements a combination of continued and reasonable regulatory requirements, voluntary public access planning by municipalities, and user-friendly information dissemination.
The Department is committed to upholding our historical role in protecting and promoting the public's right of access to New Jersey's tidal waters. The new, common sense approach to ensuring this goal, as described above, is being implemented by regulatory changes to NJ's Public Access Rule (see: http://www.nj.gov/dep/rules/proposals/20120319a.pdf).
Public Access Information
Whether a family wants to bring or buy food, surf or play volleyball, canoe or kayak, easily change a baby's diaper or take a toddler to the restroom, fish off a pier or have a drink at a pier bar, this web page will strive to provide that information. The Department continues to provide the public with information about public access points, enabling people to choose the ideal location for them to enjoy New Jersey's coastal and other tidal waters. Resources that provide details about access points, facilities, amenities, costs, and other essential information are available on this page and throughout the website. These will be expanded and regularly updated in the future.