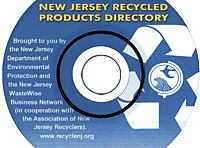 The Recycling Directory:
New Jersey Recycled
Products Directory CD-ROM
A valuable resource!
The New Jersey Recycled Products Directory is a very useful resource that will support your organization's recycled product procurement program. The CD-ROM, which is the size of a business card, also includes a Questions & Answers document that addresses some of the more common questions that are asked about recycled products.
By purchasing recycled products, you are helping to create long-term stable markets for the recyclable materials that are collected from New Jersey homes, businesses and institutions. Recycled products are high quality, readily available, affordable and diverse, so remember to BUY RECYCLED!
Please contact Steven Rinaldi at Steven.Rinaldi@dep.state.nj.us if you would like to obtain a CD-ROM for your organization.