DEP PROVIDES $5 MILLION FOR LINCOLN PARK RESTORATION
Wetland Renewal and Landfill Closure Funded with Natural Resource Damage Settlements
(05/126) JERSEY CITY -- Joining Hudson County officials along the Hackensack River today, Department of Environmental Protection (DEP) Commissioner Bradley M. Campbell announced a commitment of $5 million in funding for Lincoln Park to restore wetlands and redevelop a landfill for active recreation use. Hudson County also will provide $2 million towards the landfill closure and redevelopment project.
Hudson County's Lincoln Park site encompasses 270 acres that includes numerous recreation fields and other facilities. A 31-acre wetland portion of the site along the Hackensack River will be restored from a degraded salt marsh that was used as part of a local landfill to a functioning tidal wetland. An adjacent 20-acre portion of landfilled area will be properly closed with a cap and other environmental controls. Landfill operations ceased at the site in 1982.
"This demonstrates our success in using the "polluter pays" principle to ensure restoration of urban open space and habitat," said Commissioner Campbell. "This restoration along the Hackensack River estuary is key to supporting waterfowl, shorebirds and native wetland plant species."
The funding comes from three settlements between state and Federal trustee agencies and companies that caused past water pollution in the area that resulted in natural resource damages. Trustees in these cases include DEP, the National Oceanic and Atmospheric Administration (NOAA), and the U.S. Fish and Wildlife Service. Trustees will use settlement funds to restore wetlands and endangered species habitat, increase public access to natural resources, and protect and manage resources injured by oil spills and hazardous waste sites.
"In an area with so little green space, this project will provide over 20 new acres of healthy parkland and ballfields, providing Hudson County families another option for relaxation and recreation while also cleaning the environment and providing valuable wildlife habitat," Congressman Robert Menendez. "I'm proud for the part I played in getting this project started, and I'm extremely pleased that the state and county are now taking the next steps in cleaning this local treasure."
"NOAA is excited to join our state and local partners to restore this degraded wetland ecosystem in Lincoln Park," said retired Navy Vice Adm. Conrad C. Lautenbacher, Ph.D., under secretary of commerce for oceans and atmosphere and NOAA administrator. "This project will benefit New Jersey citizens, the fish and wildlife resources in the Hackensack River, and the greater New York/New Jersey Harbor ecosystem."
Lincoln Park is the jewel of our outstanding county park system," said Hudson County Executive Thomas A. DeGise. "We are pleased that our $2 million commitment to expanding and improving Lincoln Park has been matched - and exceeded by the State with these polluter settlement dollars. It is a sensible, cooperative approach to a regional concern that environmentalists, recreation advocates and tax payers can support in equal measure."
"A little innovation and lots of cooperation by Hudson County Parks, NJDEP and partners have produced a great example of what a brownfields-to-greenfields urban restoration can be," said Greg Remaud, preservation director, NY/NJ Baykeeper. "A heavily impacted site will be cleaned, natural habitat will be improved, and recreational opportunities for residents will be expanded."
Trustees and the U.S. Army Corps of Engineers evaluated various restoration alternatives for the Lincoln Park site. The wetland restoration plan will include removal of landfill debris, creation of tidal channels, and planting of salt marsh vegetation. In addition, the adjacent landfill area will be capped using the excavated material from the site. This process will lower the site elevation of the 31-acre area so that it can once again be regularly flowed by the tide and support native wetland plant species with high habitat value.
The on-site landfill consolidation and closure component includes placement of a soil cap with storm water management controls. Active recreation plans will be incorporated into the cap design to allow for safe use of the area by residents. DEP will continue to partner with Hudson County and the National Oceanic and Atmospheric Administration (NOAA) to oversee the construction work.
The funding sources for the design and construction work include settlements for the Cynthia M sodium Hydroxide spill in the Hackensack River in 1994 initiated by NY/NJ Baykeeper, the Exxon Bayway petroleum spill in the Arthur Kill in 1990 and ground water contamination from the Hudson County chromium sites.
Background on DEP Natural Resource Damage Program
Natural Resource Damage claims compensate the residents of New Jersey for the injury and lost use of natural resources due to contamination. Injuries can refer to both ecological injuries to wetlands, wildlife, ground water or surface water and to human use injuries such as the closure of a waterway to fishing, a beach to swimming or an aquifer for use as drinking water supply.
DEP's preferred voluntary settlement track has resulted in the settlement of natural resource damages at 371 hazardous sites. The total preserved wildlife habitat and aquifer recharge area is more than 4,000 acres.
In addition to protecting more than 4,000 acres of wildlife habitat and aquifer recharge area, DEP and the Attorney General's Office have recovered approximately $30 million since 2002. DEP also is working with 95 additional responsible parties representing about 850 sites that seek to voluntarily resolve their liability for natural resource damages.
NRD claims are separate from the costs associated with cleaning up contamination. New Jersey's Spill Compensation and Control Act makes any entity that has discharged hazardous substances onto the land or into the waters of the state liable for both cleanup and for natural resource injuries.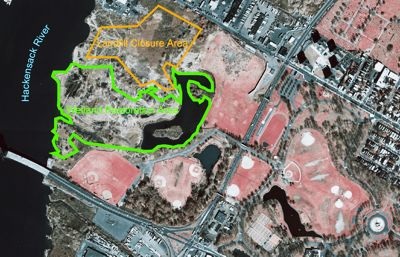 View a larger version of the aerial image (70 Kb)
PDF of the larger image (1.16 Mb; requires a free reader)