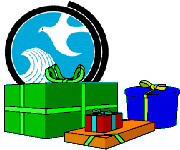 DEP Employees Share Holiday Spirit
Employees of the New Jersey Department of Environmental Protection (DEP) gave Santa Claus a helping hand this year by donating toys and clothing for more than 200 Trenton area children.
DEP Commissioner Bob Shinn presented the wrapped gifts to Associate Minister William E. Coleman, Jr., of Shiloh Baptist Church, on December 19. The presents were distributed to needy children at the church's annual holiday event.
"DEP employees give of themselves all year - through blood drives, through paycheck deductions for charitable donations, food bank drives, meals for the homeless and even assistance placing stray animals," said Shinn. "I'm extremely proud of their spirit, generosity and consideration for those less fortunate."
DEP staff also sponsored an International Cookie Tasting this week to help provide hot meals for homeless families. Tasters paid a small fee to sample the diverse assortment of holiday treats. A total of $133 was raised for Home Front, a charitable program in which DEP employees participate year round.
###