Friends of the Hancock House, Inc will present the Civil War Weekend at the Hancock House in Hancocks Bridge, Salem County, NJ. We are also honoring the young Quakeress, Cornelia Hancock, who left home in 1863 to go to the battlefield at Gettysburg. The "South After Gettysburg" book which is a compilation of her letters describing the carnage at Gettysburg is being used in museums for displays for the 150th anniversary in July.
Built in 1734, the Hancock House is an important tangible link to understanding the History of Salem County and our Nation's struggle for independence. It was the home of a prominent "Salem County family and is an excellent example of English Quaker patterned end wall brick houses associated with the lower Delaware Valley and southwestern New Jersey. It was also the scene of a British- led massacre during the Revolutionary War.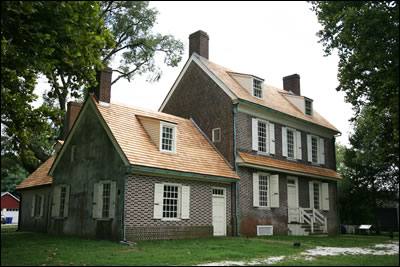 New Roof Photo courtesy of Rebecca Purchase
The story of the Hancock House begins in 1675 when John Fenwick, a lawyer and Quaker from England. Arrived in West Jersey(now Salem County). With land purchased two years earlier; he established the first permanent English settlement here, called "Fenwick's Colony," and founded the town of Salem. Eager to populate the area with skilled, industrious individuals, he advertised the area's assets by stating, "…if there be any terrestrial "Canaan" 'tis surely here, where the land floweth with Milk and Honey"
The Salem County Hancock House family is not related to John Hancock signer of the Declaration of Independence.
Open Hearth Cooking & Fall Craft Workshop October 18, 2014 Enroll Now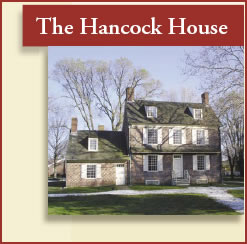 View the Hancock House Brochure PDF file (1.47 mb)
Help us Identify this Mysterious Objects
Any ideas? Email:hancockhousenj@comcast.net
This hand painted banner is 34.5" High and 39" wide. The image is painted on linen. Our file in the collection records has an empty envelope with these words written on it "Supposed to have been used in the War of 1812".

Possible suggestion:

"I BELIEVE THAT THE PICTURE YOU HAVE IS OF THE FRENCH (IN LOUISIANA)GREETING THE US AFTER THE LOUISIANA PURCHASE.THE US UNIFORM IS CONSISTANT WITH THE UNIFORMS WORN IN 1804.SO IS THE FRENCH.THE FLAG ALSO CLOSLY RESEMBLES THE 1861 LOUISIANA SESSION FLAG."