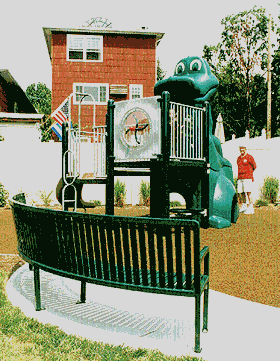 After Redevelopment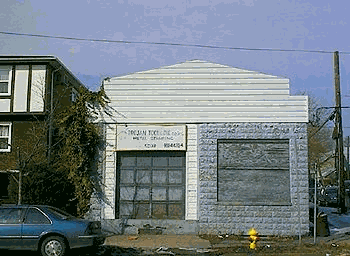 Before the Project
Photo Credits: Hudson County Economic Development Corporation (http://www.hudsonbrownfields.org).
More info about this project at http://www.hudsonbrownfields.org/site-k-elmst.php

See an aerial photo of the area in the mid-1990s. (PDF 135 Mb)
Before this abandoned tool and die shop was converted to a park, parents in the 507 Elm Street neighborhood had to walk their children across active rail lines to access the nearest park. Now, this former brownfield site has become an asset to this vibrant community.
The transformation of this property was done through an open process that engaged various people and required teamwork to address technical issues and to obtain resources to see this project to a successful completion. The Mayor and Council of the Town of Kearny, the Hudson County Brownfield Stakeholders Group and, New Jersey Department of Environmental Protection Case Manager, the Mayor and Council of Kearny as well as Linda Range, case manager with the New Jersey Department of Environmental Protection, were all important members of the team.
How to View The Area of This Site in i-MapNJ
Internet Mapping in NJ (i-MapNJ) works best with Microsoft Internet Explorer version 4 or higher.
Access the i-MapNJ entry page.
On most browsers, this link will open i-MapNJ in a separate browser window so you can continue referring back to these instructions.

Select "Launch i-MapNJ" and wait until the map of New Jersey finishes loading.

Select "Find an individual location" from the menu on the right side.
A separate browser window with several search options should appear.

Select the "X-Y Coordinates" option.

Enter the following values for the X and Y Coordinates:

for X: 591904
for Y: 705644
HINT: You can use your browser's copy and paste functions.

Select "View Map."
Note: The aerial photos used by i-MapNJ are several years old and do not reflect the current appearance of the site. The underlying i-MapNJ data for interactive analyses are much more recent.