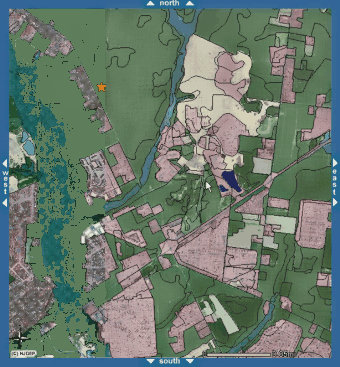 Map of the norther Dover Township area, circa mid-1990's, derived from DEP's i-MapNJ online interactive mapping tool.

See an aerial photo of the same area in the mid-1990s. (PDF 1.01 Mb)
Kara Homes at Tallymawr is a new residential development (the first home was delivered at the end of September, 2003) located in the North Dover section of Toms River. What today is a community of 149 new single family homes was once an underutilized piece of property of roughly 100 acres, located next to a landfill. Given the location and desire to attract families seeking a safe, friendly neighborhood for their children, the developer, Kara Homes, took the initiative to conduct a Preliminary Assessment (PA) and Site Investigation (SI) and to obtain a No Further Action (NFA) letter and Covenant Not to Sue (CNS) so new home buyers would feel satisfied that no adverse environmental conditions existed. To further assure buyers, Kara Homes took the initiative of installing a landfill gas detection and ventilation system in each home and provided notice to prospective purchasers that a landfill is situated next to the development. As an additional precaution, a notice was included directing owners not to install private potable wells at any of the home lots. The inactive landfill, which is not part of the development, is going to be developed as a golf course by another developer.