Helpful Software for Hazsite/EDD
These resources are provided "as-is". They may help you you in working with HazSite data but the NJDEP makes no specific warranty for these resources. SRP makes no representations or warranties regarding the information provided at that Web site, does not make a specific endorsement of the product, and cannot assist or support the user in any way.If you need help with the file formats, check our File Format Help page.
CorpsCon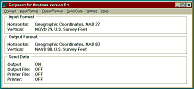 This is a latitude-longitude to state plane feet conversion utility program from the U.S Army Corps of Engineers. The Corps site describes the program as a
...program which allows the user to convert coordinates between Geographic, State Plane and Universal Transverse (UTM) on both the North American Datum of 1927 (NAD 27) and the North American Datum of 1983 (NAD 83). Corpscon also performs vertical conversions to and from the National Geodetic Vertical Datum of 1929 (NGVD 29) and the North American Vertical Datum of 1988 (NAVD 88).
CorpsCon for Windows is available from the U.S. Army Corps of Engineers Topographic Engineering Center (TEC) Geospatial Engineering Branch at http://www.tec.army.mil/. The current CorpsCon page on that site is at http://www.agc.army.mil/corpscon/ (As of June 20012. Subject to change without notice.)
State Plane Feet Calculator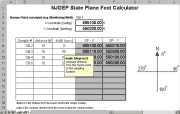 This Microsoft Excel97 (.xls) spreadsheet is an aid for calculating the state plane feet. Requires a spreadsheet program that can handle Excel files.

Microsoft Excel97 (21 Kb)

Zip of MS Excel97 file (6 Kb)