Home

>

Department Press Releases/Newsletters/Reports

News Release

New Jersey Department of
Banking and Insurance

Commissioner Ken Kobylowski

For Immediate Release:
November 26, 2013

For Further Information:
Ed Rogan or Marshall McKnight (609) 292-5064
Commissioner Kobylowski and NY Giants' Reuben Randle Play Financial Football
with East Rutherford High School Students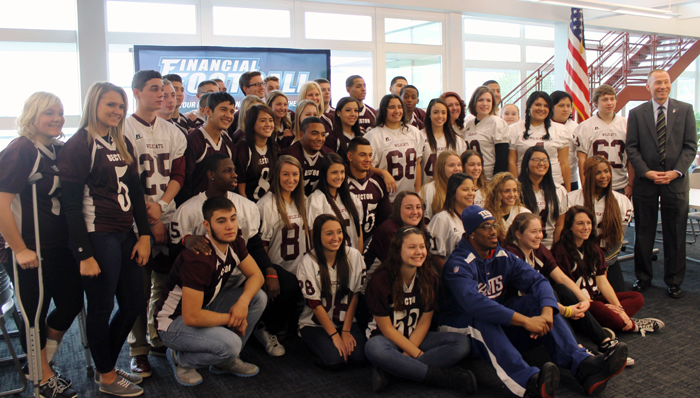 Henry R. Becton Regional High School students with New York Giants' wide receiver Reuben Randal, front, center, and Commissioner Kobylowski.
EAST RUTHERFORD — As part of the Department's continuing Financial Literacy program, Banking and Insurance Commissioner Ken Kobylowski and a group of Henry R. Becton Regional High School students recently faced off against New York Giants' wide receiver Reuben Randle and his "team" of Becton students in a game of Financial Football. This new educational video football game was developed by the NFL and VISA to help teach students the basics about such things as money, credit, budgeting and savings.
In Financial Football, players must first successfully answer multiple-choice questions on topics including money management, balancing a budget, or the importance of maintaining credit, to successfully execute the plays on the video game. The half-hour game between Commissioner Kobylowski's team, the New York Jets and Randle's team the New York Giants, ended in a tie.
"The students were great; they competed hard and they were very enthusiastic," said Commissioner Kobylowski. "I wholeheartedly thank the staff at Becton Regional High School, the NFL, and Reuben Randle and VISA for hosting a great event. Most important, the students were learning and having a great time."
VISA and the NFL developed Financial Football in 2005, and since that time they have partnered with 29 state governments to co-brand and distribute free copies of Financial Football 2.0. Copies of the game will be made available to all high schools in New Jersey free of charge.
The event at the high school on November 26 was part of the Department's Financial Literacy Program for high school and college students. For the last seven years, the Department has spoken to thousands of students in schools across the State about topics including basic personal finance, the importance of credit and how to manage credit cards.
Last year, the Department began a Financial Literacy Program for senior citizens that covers topics such as life insurance, reverse mortgages, annuities, long term care, and mortgage refinancing.
###
OPRA is a state law that was enacted to give the public greater access to government records maintained by public agencies in New Jersey.

You will need to download the latest version of Adobe Acrobat Reader in order to correctly view and print PDF (Portable Document Format) files from this web site.
Copyright © 2011, State of New Jersey
New Jersey Department of Banking and Insurance