Delaware River Basin Commission
---
Delaware • New Jersey • Pennsylvania
---
New York • United States of America
---
DRBC Operations Branch Head Rick Fromuth discusses Delaware River Basin flood control activities with a delegation from the People's Republic of China at the commission's headquarters in December 2003. The visiting group included the lead engineer who designed the Three Gorges Dam on the Yangtze River, described as China's biggest construction project since the Great Wall. The Yangtze is the world's third largest river. Seated behind Rick and helping with translation is DRBC Water Resources Engineer/Modeler Daniel Liao.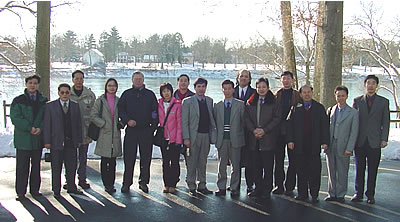 Visitors from the People's Republic of China join DRBC Public Information Officer Chris Roberts for a view of the Delaware River at Washington Crossing on December 6, 2002. Earlier that day, the Chinese delegation heard presentations from several DRBC staff members at the commission's West Trenton headquarters.
A group of mayors from several cities in Turkey, invited to the commission for a briefing on river basin management, brave the cold of winter for a firsthand look at the Delaware River in 1997.
Commission Member Links:
Delaware
|
New Jersey
|
Pennsylvania
|
New York
|
United States
Copyright © Delaware River Basin Commission,
P.O. Box 7360, West Trenton, NJ 08628-0360
Phone (609)883-9500; Fax (609)883-9522
Thanks to NJ for hosting the DRBC website
Last Modified: 10/24/2011