Delaware River Basin Commission
---
Delaware • New Jersey • Pennsylvania
---
New York • United States of America
---
Delaware River Recreation Map Set
Schuylkill River Recreation Map Set
Ordering Information
The DRBC offers two sets of recreation maps for purchase: the Delaware River Recreation Map Set and the Schuylkill River Recreation Map Set. If you paddle, fish, or boat the Delaware and/or Schuylkill rivers, these map sets are for you!
Purchase individually, or order both at a cost savings. Prices and ordering information appear below the map set descriptions.
Delaware River Recreation Map Set
The Delaware River Recreation Maps are a 10-section, waterproofed map set that covers the river's east and west branches prior to their confluence at Hancock, New York, the entire 200 mile, non-tidal reach of the river from Hancock to Trenton, New Jersey, and an additional 25 miles of the tidal river from Trenton to just south of the Betsy Ross Bridge (which connects Northeast Philadelphia, Pa. and Pennsauken, N.J.).
The maps depict river channel locations and depths, access areas, places of interest, stream miles and reference points, and provide a detailed Classification of streamflow characteristics in accordance with the International Canoe Federation's Scale of River Difficulty.
Please note: The free Delaware River Water Trail Guide will be mailed with every paid recreation map order.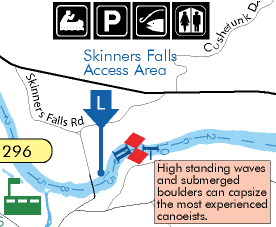 Schuylkill River Recreation Map Set
The 10-map set, published in 2003, includes portions of the Little Schuylkill River, West Branch Schuylkill River, and the main stem Schuylkill River from Port Clinton to the Delaware River in southeastern Pennsylvania.
These full-color, waterproof river maps identify public access areas, International Canoe Federation/American Whitewater Affiliation-designated streamflow characteristics, areas of caution, dams and pools, and recreation opportunities.
It is best to use these recreation maps in tandem with the Schuylkill River Water Trail Guide, published by the Schuylkill River Heritage Area (SRHA)/Schuylkill River Greenway Association (SRGA). This guide includes additional information on points of interest, emergency services and local amenities, as well as detailed landing maps, contacts to obtain overnight camping permission (where allowed), and other useful information. You can learn more about the guide on SRHA/SRGA's web site. Sorry, the DRBC is not offering this guide for sale, so you must contact SRHA/SRGA if you are interested in purchasing a copy.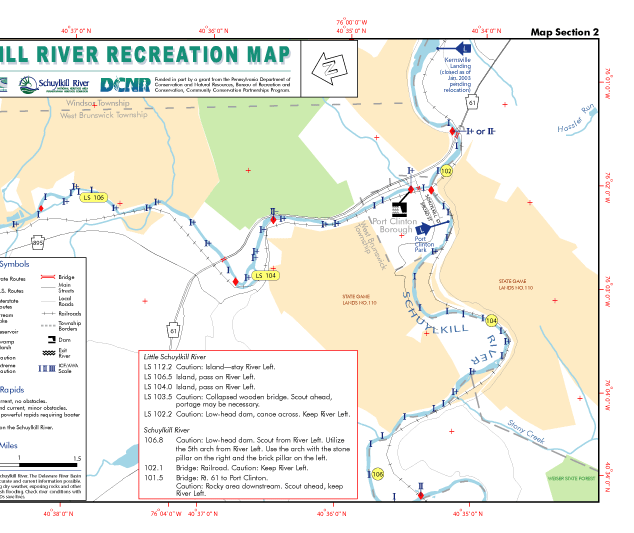 Ordering Information
Recreation Map Set Prices:
Delaware River Recreation Maps: $25/set.
Schuylkill River Recreation Maps: $10/set.
Purchase both sets for $30, a $5 savings!
Prices include N.J. sales tax and shipping/handling.
A portion of the proceeds from the sale of the Delaware River Recreation Maps will help fund the commission's educational/outreach programs and activities.
How to Order Recreation Maps:
Order by mailing in check payment or money order.
Order online via PayPal or major credit card.
Check/Money Order by Mail:
If ordering Delaware River Recreation Maps, please download the order form (pdf 148 KB), fill out completely, and send in with payment.
If ordering Schuylkill River Recreation Maps, please note so on your check.
If you are ordering both map sets, please note so on the order form and/or your check.
Please make check/money order payable to: Delaware River Basin Commission, P.O. Box 7360, 25 State Police Drive, West Trenton, NJ 08628-0360.
Online Orders via PayPal or Major Credit Card:
You do not need to have a PayPal account to order online. You can purchase the maps with any major credit card, or via a PayPal account.
Online orders separate the "item price" of the map set and the sales tax; however, the total cost for the maps is the same as if ordering via mail.
Once you click "Add to Cart," you will be taken to your shopping cart on PayPal's web site. You will be able to amend the quantity requested and/or continue shopping to purchase additional map sets.
Commission Member Links:
Delaware
|
New Jersey
|
Pennsylvania
|
New York
|
United States
Copyright © Delaware River Basin Commission,
P.O. Box 7360, West Trenton, NJ 08628-0360
Phone (609)883-9500; Fax (609)883-9522
Thanks to NJ for hosting the DRBC website
Last Modified: 06/16/2014