Delaware River Basin Commission
---
Delaware • New Jersey • Pennsylvania
---
New York • United States of America
---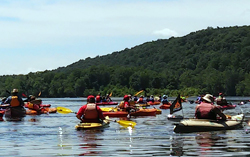 Delaware River Sojourn
The 22nd Delaware River Sojourn took place from Saturday, June 18 through Saturday, June 25, 2016. This year's theme was Find Your River: Celebrating 100 Years of the National Park Service, and programming highlighted the agency's centennial milestone.
The 2016 Sojourn had a great turnout, averaging nearly 85 participants per day, with a record 131 taking part on day 3. Most sojourners participated for more than one day, and many did the entire 8-day trip. Highlights included multiple bald eagle sightings, paddling through the Delaware Water Gap, a fun swim break in the rapids between Walls and Prahls islands, a trip aboard the Steamboat SPLASH, a stop on Burlington Island, and a visit to Pennsbury Manor. Planning has already begun for the 2017 Delaware River Sojourn; details will be available in fall 2016.
Held in June to celebrate National Rivers Month, the Delaware River Sojourn is a guided paddling trip on the wild and scenic Delaware River, combining canoeing/kayaking, camping, educational programs, and historical interpretation. Geared for novice to experienced paddlers, participants can sign up for the whole event or for the section(s) or day(s) of their choice. By getting individuals out on the river to experience it first-hand, the Delaware Sojourn aims to promote stewardship of the Delaware River Watershed and its resources.
DRBC is a proud supporter of the Delaware River Sojourn and participates on its steering committee, which plans and organizes the annual not-for-profit event. Learn more by visiting the sojourn's web site at www.delawareriversojourn.org. View photos from the 2016 event and from past sojourns by visiting the Delaware River Sojourn's Facebook Page.

Commission Member Links:
Delaware
|
New Jersey
|
Pennsylvania
|
New York
|
United States
Copyright © Delaware River Basin Commission,
P.O. Box 7360, West Trenton, NJ 08628-0360
Phone (609)883-9500; Fax (609)883-9522
Thanks to NJ for hosting the DRBC website
Last Modified: 07/22/2016