Delaware River Basin Commission
---
Delaware • New Jersey • Pennsylvania
---
New York • United States of America
---
"When the well's dry, we know the worth of water."
-- Benjamin Franklin
Do you spend more per month on your cable TV service or your water bill? Many of us take water for granted in this country. Whether on public water or a private well, we turn on the tap and clean, fresh water is delivered at a few cents per gallon. That's not true in some foreign lands, where there's not enough water to go around and what's available may not be fit to drink.
Water isn't manufactured. We must wait for the rain and snow ... and hope enough falls to recharge our ground water supplies, replenish our reservoirs, and bolster flows in our streams and rivers.
A drought is a natural phenomenon caused by changes in weather patterns resulting in less than normal precipitation. The drought of record in the Delaware River Basin lasted six years (1961 to 1967).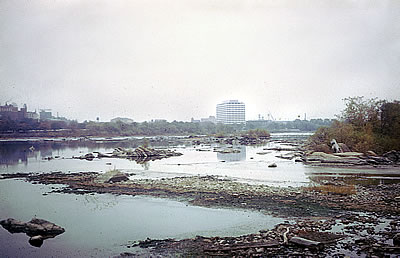 View of the Delaware River looking downstream
from Morrisville, Pa. towards Trenton, N.J., Oct. 1963.
Please choose from the list appearing on the above navigation bar for general drought information, including the following:
Commission Member Links:
Delaware
|
New Jersey
|
Pennsylvania
|
New York
|
United States
Copyright © Delaware River Basin Commission,
P.O. Box 7360, West Trenton, NJ 08628-0360
Phone (609)883-9500; Fax (609)883-9522
Thanks to NJ for hosting the DRBC website
Last Modified: 02/10/2012