Delaware River Basin Commission
---
Delaware • New Jersey • Pennsylvania
---
New York • United States of America
---
Natural Gas Drilling Index Page
Background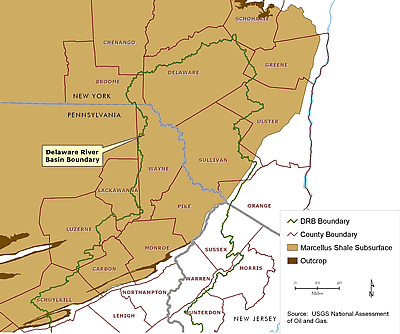 Much of the new drilling interest taking place in northeastern Pennsylvania and southern New York is targeted at reaching the natural gas found in the Marcellus Shale formation, which underlies about 36 percent of the Delaware River Basin. Because the Marcellus Shale is considered a tight geologic formation, natural gas deposits were not previously thought to be practically and economically mineable using traditional techniques. New horizontal drilling and extraction methods, coupled with higher energy costs, have given energy companies reason to take a new interest in mining the natural gas deposits within the Marcellus Shale.
However, these new extraction methods require large amounts of fresh water to fracture the formation to release the natural gas. A significant amount of water used in the extraction process is recovered, but this "frac water" includes natural gas and chemicals added to facilitate the extraction process, as well as brine and other contaminants released from the formation.
Why Is The DRBC Involved?
The DRBC is a federal-interstate compact government agency that was formed by concurrent legislation enacted in 1961 by the United States and the four basin states (Pennsylvania, New York, New Jersey, and Delaware). Its five members include the basin state governors and the Division Engineer, North Atlantic Division, U.S. Army Corps of Engineers, who serves as the federal representative. The commission has legal authority over both water quality and water quantity-related issues throughout the basin.
In connection with natural gas drilling, the commission has identified three major areas of concern:
Gas drilling projects in the Marcellus Shale or other formations may have a substantial effect on the water resources of the basin by reducing the flow in streams and/or aquifers used to supply the significant amounts of fresh water needed in the natural gas mining process.
On-site drilling operations may potentially add, discharge or cause the release of pollutants into the ground water or surface water.
The recovered "frac water" must be treated and disposed of properly.
Note: The commission does not get involved in the private negotiations taking place between natural gas drilling companies and private property owners. However, property owners are advised to seek appropriate technical and legal representation to ensure that they obtain adequate protection of their property.
Status of DRBC Adoption of Regulations
The commissioners at their May 5, 2010 meeting unanimously directed staff to develop draft regulations on well pads in the shales for notice and comment rulemaking and postponed the DRBC's consideration of well pad dockets until regulations are adopted. The special meeting scheduled for Nov. 21, 2011 to consider adoption of draft natural gas development regulations was postponed to allow additional time for review by the five DRBC members. The commissioners continue to work through some unresolved issues and no new date has yet been announced for a vote on the draft regulations.
Further information regarding the rulemaking will be posted on DRBC's web site as soon as it becomes available.
Commission Member Links:
Delaware
|
New Jersey
|
Pennsylvania
|
New York
|
United States
Copyright © Delaware River Basin Commission,
P.O. Box 7360, West Trenton, NJ 08628-0360
Phone (609)883-9500; Fax (609)883-9522
Thanks to NJ for hosting the DRBC website
Last Modified: 10/24/2012