Skip to navigation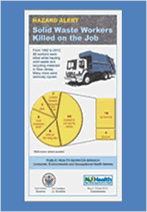 NJDOH Hazard Alert
[pdf 1m]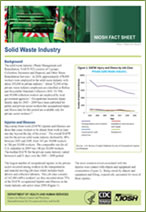 NIOSH Solid Waste
Industry Fact Sheet
[pdf 1.9m]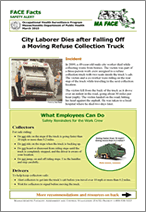 MA Safety Alert
[pdf 1.9m]
From 1992 to 2012, 43 workers were killed while hauling solid waste and recycling materials in New Jersey. Many more were seriously injured. This Web page provides resources to promote safe work practices in this industry.
Fatality Investigation Reports Related to Solid Waste and Recycling Workers
The NJDOH conducts in-depth investigations of select fatal occupational injuries as part of the Fatality Assessment and Control Evaluation (FACE) Project, with support from the National Institute for Occupational Safety and Health (NIOSH). FACE is designed to identify the underlying causes of work-related fatalities and detect common patterns of fatal injuries in New Jersey. Through FACE Investigation Reports, FACE informs employers and workers of commonly occurring hazardous operations and work practices including recommendations for preventing similar incidents in the future.
The following are FACE investigation reports related to solid waste and recycling workers who were fatally injured in New Jersey and other states from 1990-2013. All these reports are available on the NIOSH FACE Program Web site by using the search feature. Suggested key words include: refuse truck, trash truck, recycling, garbage truck.
*NIOSH in-house report; state never had a FACE project.
New Jersey Haulers Licensing and Regulations

The New Jersey Department of Environmental Protection (NJDEP) Solid and Hazardous Waste Management Program:

Administers the licensing (A-901) of companies engaged in the solid/hazardous waste business
Registers solid and hazardous waste transporter vehicles and equipment
Enforces the provisions of the NJ Solid Waste Management and Solid Waste Utility Control Acts

New Jersey Department of Labor and Workforce Development (NJDLWD)

The NJDLWD's Office of Public Employees Occupational Safety and Health enforces OSHA standards in New Jersey's public sector. The NJDLWD also offers free on-site consultation to New Jersey private and public employers.

American National Standards Institute (ANSI)

ANSI oversees the creation, promulgation and use of thousands of norms and guidelines that directly impact businesses in nearly every sector: from acoustical devices to construction equipment, from dairy and livestock production to energy distribution, and many more. The following ANSI standards are particularly pertinent to the solid waste industry:




Environmental Industry Associations (EIA)

EIA is the trade association that represents the private sector solid waste and recycling industry through its two sub-associations:

National Solid Wastes Management Association(NSWMA): the trade association representing for-profit companies in North America that provide solid, hazardous and medical waste collection, recycling and disposal services, and companies that provide professional and consulting services to the waste services industry.
Waste Equipment Technology Association (WASTEC): the trade association representing those companies which design, build, distribute, service and consult with respect to the equipment and technology systems that are used to collect, contain, transport, store, process, recycle, treat and dispose of the world's solid and hazardous wastes and recyclable materials.




New Jersey Chapter of the Solid Waste Association of North America (SWANA)

SWANA has made its mission to advance the practice of environmentally and economically sound management of municipal solid waste in North America and provides a forum for solid waste professionals to share information and promote training. SWANA's technical conferences and training programs cover all aspects of integrated municipal solid waste management, and the Association is a major policy and technical representative of solid waste management practitioners, executives, companies and government organizations.