New Jersey Commission on Higher Education
Executive Director's Report
October 29, 2004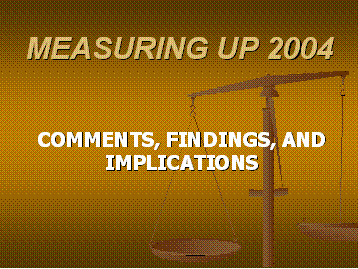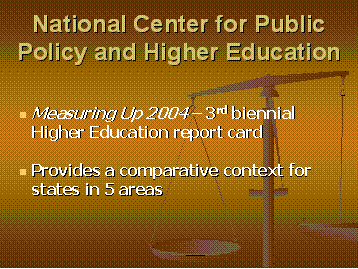 In September, the National Center for Public Policy and Higher Education issued its third biennial national report card for higher education.  Measuring Up 2004 is intended to provide the public and policymakers with information to assess and improve higher education in each state.
The report card grades states in five areas, and gives all states an incomplete in learning outcomes, because there is currently no comparable information across states.  Overall, Measuring Up has provided useful information since it began in 2000, including an important comparative context for states.  A new feature of the report this year provides trend data over a decade, and the long-term look raises some cause for concern.  As with any report, what's included and not included in the data raises methodology questions.  And the findings sometimes don't reflect important particulars about each state.  Nonetheless, this year's report brings important issues to center stage.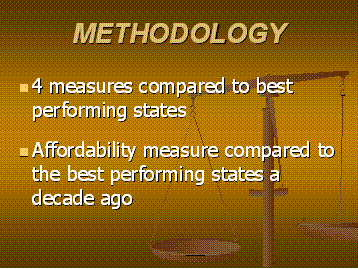 In four performance measures, grades are calculated by comparing each state's current performance to that of the best-performing states.  The affordability measure is calculated differently, for the first time this year – it compares each state's current results to the performance of the top states a decade ago.  This change has raised some concerns, and the methodology for calculating federal aid has been questioned, suggesting that it significantly exaggerates the findings in this area.  But whether exaggerated or not, the issue of affordability is a serious concern that needs to be addressed.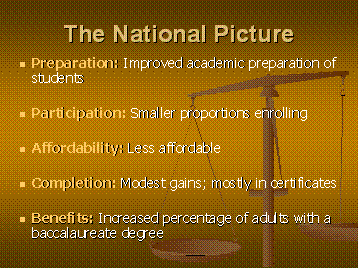 Preparation: Nationally, the academic preparation of high school students has improved considerably over the past decade.  This is truly good news – the proportion of high school students taking college preparatory courses (like upper-level math and science) has increased substantially over 10 years. 
Strong leadership and commitment over many years has raised educational performance in schools – although there is still a long way to go.
Participation:  Smaller proportions of young and working-age adults are enrolling in education and training beyond high school.
Affordability:  The nation's colleges and universities have become less affordable for students and families.
Completion:  Modest gains have been made in the percentage of students completing certificates and degrees. Most of the improvement is due to an increase in the number of certificates.
Benefits:  Most states have increased the percentage of adults with a baccalaureate degree and thereby increased economic benefits that accrue from a highly educated population.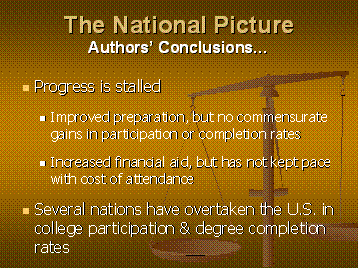 As a result, the authors concluded that the nation's progress toward college opportunity and effectiveness seems to be stalled.
While preparation has improved, we have not seen the same commensurate gains in college participation or degree completion rates.

And paying for college has become increasingly difficult.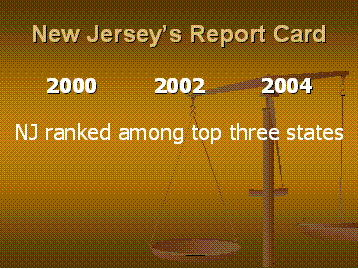 New Jersey's Report Card.  In Measuring Up reports 2000, 2002, and 2004, NJ has ranked among the top three states in the nation. The comparative context lets us know that we're doing very well relative to others.  But the report also points out areas of vulnerability that require policy leadership and informed action.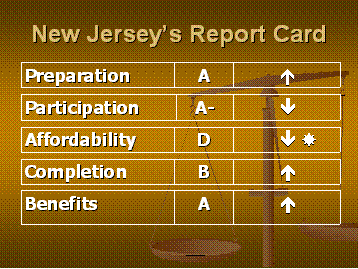 NJ's Grades
Preparation:  NJ received an "A" in preparation and has improved in this area over the 10 year period .              
Participation:  The state is also marked high in participation, but has slipped a bit over the decade.
Affordability*:  NJ's "D" is actually a better mark than most states received in affordability.  Based on the methodology of previous reports, NJ would have received a "C+" rather than a "D."  But either way, college has become significantly less affordable over 10 years.
Completion: NJ received a "B" for completion and has improved over the decade.  
Benefits: NJ earned an "A" in benefits, with a substantial improvement in the benefits to the state from having a highly educated population.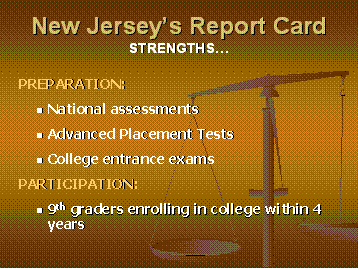 Like any report card, it's important to look beyond the grades.
Strengths
Preparation
Comparatively, 8th graders perform well on national assessments in several areas.
Students perform well on Advanced Placement tests.
College entrance exams – improved substantially.
And NJ is a top performer and improving in percentage of secondary students taught by qualified teachers.
Participation
New Jersey has consistently done well on likelihood of 9th graders enrolling in college within four years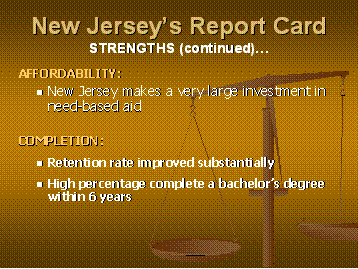 Affordability
NJ makes a significant investment in need-based aid.
Completion
Comparatively, NJ has a very high retention rate from freshman to sophomore year and has improved substantially.
A very high percentage of students complete a bachelor's degree within six years.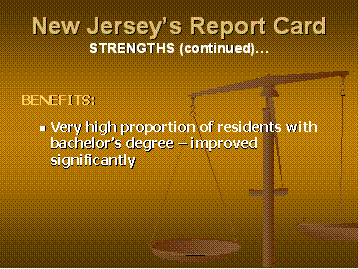 Benefits
A very high proportion of NJ residents have a bachelor's degree, and the percentage has improved significantly beyond the nationwide increase, despite the large portion of recent graduates going out-of-state to attend college.
So we are fortunate to have strong preparation, a high participation rate, significant student need-based aid, comparatively good retention and completion rates, and a very high educational attainment rate.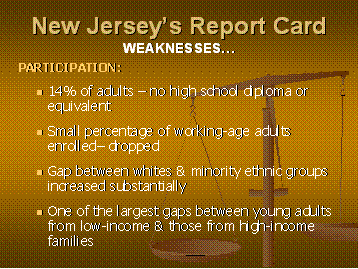 Weaknesses
Participation
About 14% of adults do not have a high school diploma or equivalent.
A small percentage of working-age adults are enrolled in higher education, and the percentage has dropped.
Staff will look further at this measure; it appears it may be a place where methodology may not fit well with particulars of
a state.
The gap in college participation between whites and minority ethnic groups has increased substantially.
The gap in college participation between young adults from low-income and those from high-income families is one of the largest in the nation.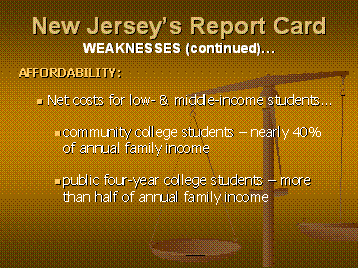 Affordability
Net college costs for low- and middle-income students to attend community colleges is nearly 40% of their annual family income.
Net college costs for low- and middle-income students to attend public four-year colleges is more than half of their annual family income.
Despite the methodology questions on this measure, net costs have clearly increased.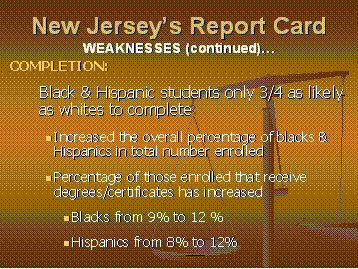 Completion
Black and Hispanic students are only three-quarters as likely as whites to complete certificates and degrees. 
This is an area where a look beyond the Measuring Up data is important because NJ has made strides in this area. 
                     Blacks from 9% to 12%
                     Hispanics from 8% to 12%.
That is significant; but in fact, Black and Hispanic students are still only three-quarters as likely as whites to complete certificates and degrees.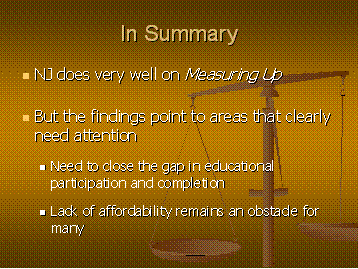 In summary
In comparison to other states, NJ does very well on the Measuring Up report.  At the same time, the findings point to areas that clearly need attention
The report highlights what we have talked about and already knew  -- we need to close the gap in educational participation and completion

Benefits to a college degree are clear – incentives are there to encourage enrollment – but lack of affordability remains an obstacle for many
Even in a state like NJ, where marks are among the best – there are serious areas of concern.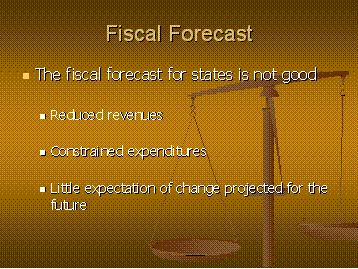 Fiscal Forecast
Given the fiscal forecast for the future, we face a significant challenge.
The fiscal picture for states is not good; the long-term projection is for reduced revenues and constrained expenditures. And there is little expectation of change for many years to come.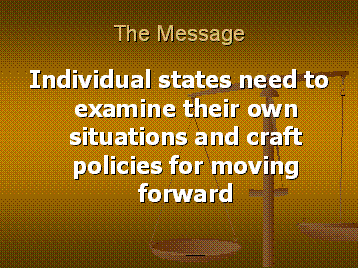 The Message
Perhaps the most important message in the report is that individual states need to examine their own situations and craft policies for moving forward.
This links back to what Chairman Mertz discussed earlier – the need to initiate a state-level conversation about how NJ will address its unique challenges and integrate financial aid and operating support policies for higher education in the future to meet the needs of individuals and the state.
We look forward to working with HESAA to recommend a framework to initiate that conversation, which will include a broad base of key stakeholders.  We will look next month at the possibility of participating in the national program Chairman Mertz mentioned, which is funded by the Lumina Foundation to assist states in addressing the challenges ahead.