News & Events/Ongoing Resources

---
America Saves Week serves as a reminder about the importance of saving for the future.  While many Americans may not be thinking about saving right now, it is important to develop the habit early in life to support our increasingly long retirement years.  The typical 65-year old today can expect to spend about 20 years in retirement, so a little planning now can help enormously down the road.
 
Social Security has a Special Initiative to Encourage Saving, with a focus on helping Americans better prepare for retirement. Read more>>>
---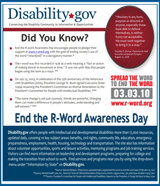 Spread the Word to End the Word...
On March 3rd, join Special Olympics, Best Buddies International, and their supporters in their ongoing efforts to raise awareness about the dehumanizing effects of the word "retard(ed)".  Encourage people to pledge to stop using words that are hurtful and demeaning. This campaign, created by youth, is intended to engage schools, organizations and communities to rally and pledge their support against the use of the R-word. 

Visit Disability.gov's Press Room for more information.  Here is the website for the End the R-Word Campaign:  http://r-word.org/.  Click here to read the poster.

Educational, Training and Workshop Opportunities...

These "Webinar" training events provide learning opportunities about the Americans with Disabilities Act (ADA) and other disability-related subjects including reasonable accommodations; assistive technology; ensuring access for customers with disabilities; accommodation ideas for employees with traumatic brain injuries (TBI); creating accessible videos and many other subjects covering transportation, employment, education and other areas that affect the lives and independence of people with disabilities.  The ongoing URL for this Webinar Calendar is:

http://www.adacourse.org/events.php#content
---
Applications for the Fellowship at National Industries for the Blind are now being accepted
.
The Fellowship for Leadership Development, sponsored by National Industries for the Blind (NIB), is a salaried, two-year program that combines business-focused, on-the-job experience with formal management training. Legally blind individuals who have an undergraduate degree, work experience and passion for business are invited to apply. Read the
Frequently Asked Questions
document for more information. Application deadline is
April 15, 2010
. 
Posted: 2-16-2010
---
Lighthouse International
is now receiving applications for its
2010 Scholarship and Career Awards
.  These scholarships reward excellence, recognize accomplishments and help students who are blind or partially sighted pursue their academic and career goals.  Please note that applications 
must be submitted online by Sunday, March 14, 2010.
---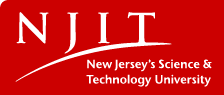 The 
Guttenberg Scholarship for Students with Disabilities
is now available.
[
pdf
]  [
word doc
]
---
Local and State News & Events...
The Diocese of Metuchen will host its annual Symposium to Foster Awareness for People with Disabilities on Saturday, March 13 at the St. John Neumann Pastoral Center, 146

Metlars

Lane in Piscataway.  Read more >> 


Certified Brain Injury Specialist Training
---
Regional Family Support Planning Council #8: Disability Services Resource Forum for families in Gloucester County - Monday, March 15, 2010 
---
Regional Family Support Planning Council #1: Disability Services Resource Fair for families in Morris, Sussex & Warren Counties - Saturday, March 20, 2010
---
Developmental Disabilities Lecture Series for Spring 2010 [pdf] - covering such topics as Positive Behavior Support; Think College; Innovations in Individualized Supports; and Exploring Guardianship Alternatives... April 16 & 30, May 7 & 14.
---
DDS joins national campaign to increase employer awareness of workers with disabilities
TRENTON, NJ - January 25, 2010 -- The Division of Disability Services (DDS) has used part of its Medicaid Infrastructure Grant (MIG) to join the national "Think Beyond the Label" promotional campaign to increase employer awareness of workers with disabilities.

The Think Beyond the Label campaign was formally launched this week and will include television advertising and print ads in major newspapers throughout the country. This New York Times article explains the ad campaign's strategy for attracting attention:  Using Humor in a Campaign Supporting Disabled People.
| | | |
| --- | --- | --- |
|   | Print ads from the new campaign using comical labels, intended to encourage employers to ignore labels when hiring people with disabilities. |   |
The MIG program stems from Section 203 of the Ticket to Work and Work Incentives Improvement Act (TWWIIA) of 1999, to support State efforts to enhance employment options for people with disabilities.  The Centers for Medicare & Medicaid Services (CMS) administers the MIG program, which supports people with disabilities in securing and sustaining competitive employment in an integrated setting.
National News & Events
The Social Security Administration (SSA) has announced that it is adding 38 more conditions to its list of Compassionate Allowances. The new conditions range from adult brain disorders to rare diseases that primarily affect children. Compassionate Allowances are a way of quickly identifying diseases and other medical conditions that clearly qualify for Social Security and Supplemental Security Income disability benefits. It allows the agency to electronically target and make speedy decisions for the most obviously disabled individuals.
Posted 2-16-10

---
Workforce3 One has released a new disability and employment resource page to make employment-related information and promising practices available to the workforce system. This new disability and employment community of practice will help promote positive employment outcomes for people with disabilities and expand the capacity of the One-Stop Career Center system to serve customers with disabilities. The new resource also has information to help the business community understand disability employment-related topics such as tax incentives and recruiting and accommodating employees with disabilities.

---
President Obama has announced that his Administration is taking several steps to ensure that there is fair and equal access to employment for all Americans, particularly the 54 million people in this country living with disabilities. These actions include collaboration between the Office of Personnel Management (OPM) and the Department of Labor's Office of Disability Employment Policy (ODEP) to sponsor a day long Federal Government-wide job fair for people with disabilities.

---
National Council on Disability Releases Latest Report Regarding Health Care Changes for People with Disabilities

WASHINGTON—The National Council on Disability (NCD) has released its latest report,
The Current State of Health Care for People with Disabilities
, on the
NCD Website
(
www.ncd.gov
), focusing the nation's attention on the health care disparities experienced by people with disabilities.  
---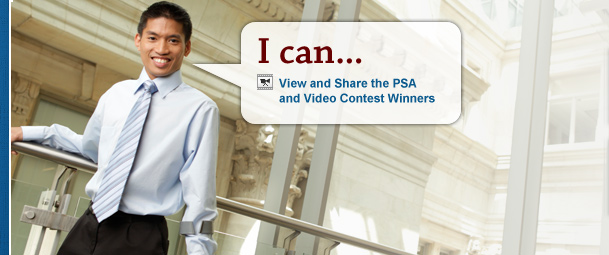 Campaign to Tackle Unemployment Among People with Disabilities
The Campaign for Disability Employment,
a new effort of the
American Association of People with Disabilities, Special Olympics and a handful of other groups, is launching an initiative dubbed "What Can YOU Do?" It features a public service announcement and a new Website where users can learn about employment issues and share their experiences.
---
Effective Emergency Management: Making Improvements for Communities & People with Disabilities
The National Council on Disability (NCD) has released a report calling on federal, state and local authorities to make sweeping changes in emergency management practices for people with disabilities.
Ongoing Events...
Ongoing Resources