Staff Directory & Operating Units
NJ Department of Human Services
Office of Program Integrity
and Accountability
P.O.Box 700
Trenton, NJ 08625-0700

Gerald Suozzo, Director 

 
Karen TeBeest, Executive Secretarial Assistant
609-292-1617
 
Office of Licensing
 
Lauri Woodward, Director
609-631-7926
 
 
Office of Auditing
 
William Cutti, Director
609-292-9752
 
 
Critical Incident Management Unit
Willi Zahn, Director
609-984-2786
 
 
Special Response Unit
 
Russell Carlini, Chief
609-292-2102
 
 
Central Fingerprint Unit
Susan Bell, Supervisor
609-984-2786
OPIA regularly meets with CEOs and Medical Directors to brainstorm with the DHS Commissioner, Chief of Staff and other members of the Executive Management Team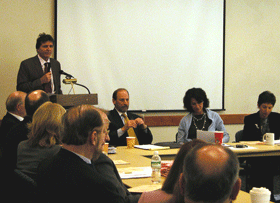 Operating Units...
Office of Licensing
Consolidated licensing units from the Divisions of Developmental Disabilities and Mental Health Services in a single licensing and regulatory authority.
Office of Auditing
Provides auditing and consulting/advisory services to DHS Divisions and Offices and respective agencies that provide services to residents of New Jersey.
Critical Incident Management Unit
Monitors, reviews and tracks and analyzes all aspects of unusual incident reports and allegations of abuse, neglect and financial exploitation of DHS service recipients.
Special Response Unit
Ensures that all allegations and suspicions of abuse, neglect and exploitation of Division of Developmental Disabilities consumers are properly investigations, and the safety and well being of service recipients are maintained.
Central Fingerprint Unit
The primary function of the Central Fingerprint Unit is to act as a liaison between the Department of Human Services' agencies, State Bureau of Investigations (SBI), Federal Bureau of Investigations (FBI) and the Live Scan Vendor.
DHS Support...
Also included in the OPIA to support DHS operations are the Medical Director, Pharmacy Consultant and Nutrition Services Director.  They provide support to the Divisions of Mental Health Services and Developmental Disabilities and also provide technical assistance to DHS facilities.  

The Medical Director monitors medical care at all state psychiatric hospitals and developmental centers in conjunction with medical directors and CEO's of each facility.

The Pharmacy Consultant monitors contracts for provider and consulting pharmacy services for compliance.

The Nutrition Services Director monitors all fundamentals of Nutrition Assessment, care criteria and format care standard, ensuring uniform care for all.