---
Conference Date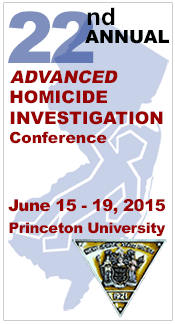 June 15 - 19, 2015
Registration will be from 6:00 PM to 9:00 PM on Sunday, June 14, 2015, at the Hyatt Place, located in Princeton, and from 7:30 AM to 8:30 AM at the Frist Center on Monday, June 15, 2015.
Opening ceremonies begin at 8:30 AM in Albert Einstein's original lecture hall located on the 3rd floor of the Frist Center.
Conference Tuition
The conference tuition is $625, and includes the conference book and other learning materials. A well-stocked continental breakfast, morning coffee, and afternoon snack are also included. In addition, tuition includes Monday and Wednesday evening receptions and Thursday evening banquet, as well as social activities.
Conference Registration
Please register online at www.njhia.org.
If unable, then complete the downloadable form below and mail to:

New Jersey Homicide Investigator's Association
PO Box 9922
Trenton, NJ 08650

Checks should be made out to New Jersey Homicide Investigator's Association
Federal Tax ID No. 26-3742994.
Download Registration [pdf]
Download 2015 Conference Brochure [pdf]
Class size is limited, therefore early registration is strongly recommended.
Upon registering for the conference, you will subsequently receive an email confirming registration and with more detailed information and instructions
For additional information or questions regarding registration please email or contact either:
Detective I Joseph Itri, New Jersey State Police Major Crime Unit at lpp6507@gw.njsp.org
609-882-2000 ext. 2538
Lt. James McGowan, New Jersey State Police Major Crime Unit at lpp5625@gw.njsp.org
609-882-2000 ext. 2538 or

PDF files require the latest version of Adobe Acrobat Reader