Homeland Security Branch

Special Operations Section:
LTC Christian A. Schulz - Deputy Superintendent of Homeland Security
Captain Louis Bucchere - Executive Officer, Special Operations Section
Captain Ronald Kirby - Bureau Chief
Lt. James Knoeller - Assistant Bureau Chief
A/Lt. Kenneth Ryan - Operations Officer
Sgt. Christopher Jones - Boating Education Coordinator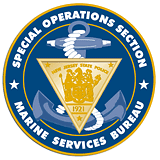 The Marine Services Bureau Mission
The Marine Services Bureau provides law enforcement services for all of New Jersey's waterways and is the primary provider for all police services on the water and contiguous land areas of the State of New Jersey. The mission of the Marine Services Bureau is to protect and serve the boating community and to preserve the natural resources of this state by utilizing general law enforcement concepts, training and education, as well as enforcing all laws fairly and without bias. We shall also provide a preventive level of homeland security through intelligent, vigilant, and highly visible patrol measures.
Before September 11, 2001, the Marine Services Bureau's primary mission focused on policing the recreational boating community, pollution investigations, fish and game investigations, and investigating criminal activity that occurred on the water. However, since September 11, 2001, our mission has drastically changed. The Marine Services Bureau now incorporates daily homeland security protection to our critical infrastructure locations that have waterside exposure and are susceptible to a waterborne attack. In addition, we conduct escorts of military vessels, both cruise ships and chemical vessels, as well as, identifying suspicious activity along the waterways. New Jersey is a peninsular state that has common water borders with Pennsylvania, Delaware, and New York, which places New Jersey in a strategic and vulnerable position. Jurisdiction and patrol areas consist of New Jersey's territorial seas, extending three nautical miles offshore, along the 127 miles of the Atlantic Ocean coastline with an interior tidal shoreline of approximately 1,750 miles, composed of the Delaware River and approximately 100 inland bays, rivers, creeks and coves. In addition, there are more than 800 lakes and ponds within this state with a total of 700 square miles of surface area.
As indicated, New Jersey has a tremendous amount of water that the Marine Services Bureau is responsible for patrolling. We also have more then 200,000 registered vessels in New Jersey. The safety of the recreational boater has always been a priority for the Marine Services Bureau and will remain so. We are committed to ensuring that all users of the state's waterways can do so in a safe and enjoyable manner. Our troopers have been very active in providing homeland security and recreational patrols for all of the communities and critical infrastructure locations along the Atlantic Coast and the Delaware River.
MSB is comprised of nine stations. These facilities are strategically located throughout the State to address the bureau's mission.
Supplemental to standard State Police Training all of the troopers assigned to the Marine Services Bureau must demonstrate their proficiency through the successful completion of the "Vessel Operator Certification Program." In order to maintain a high level of proficiency, the certification process must be re-validated annually.
In addition, approximately one third of the personnel assigned to the Marine Services Bureau are United States Coast Guard Licensed Captains with licenses that contain both tonnage and commercial towing endorsements.
Marine Services Bureau training also includes water survival, open water rescue, and ice rescue.
Patrol vessels vary widely from 13' to 50' in length, single outboard to twin diesel inboards producing in excess of 1,000 horsepower, fiberglass to aluminum, and from open to fully enclosed weather tight cabins with long-range capabilities.
The equipment onboard the vessels includes basic marine safety equipment, VHF radios, police radios, high-tech thermal imaging equipment, side-scan sonar, depth finders, and radar interfaced navigation equipment.
As a preventive measure intended to increase boating safety and reduce waterway user conflict, troopers are available to schools throughout the State to teach maritime safety to students, upon request.
---
Marine Services Support Squad
The Marine Support Services is an administrative support unit for the marine activities and responsibilities within the Division of State Police.

This unit performs the following functions:
Developing and conducting training courses
Research and purchase of marine equipment
Marine accident review and statistical data study
Review of marine related legislative proposals
Processing of NJ Boat Safety Certificates (same certificate for personal watercraft)
You may contact the Marine Services Bureau at (609)882-2000 X6170, 6173 or 6181 weekdays from 9:00AM to 5:00PM.

View the Frequently Asked Questions page for important questions.

Back | Top