Since its development in the sixties, improvements and additions to National Crime Information Center (NCIC) have been implemented to satisfy new requirements and to keep pace with growing transaction volumes.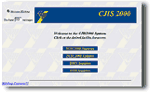 View screen shots
1 | 2
NCIC 2000 is a new system being developed to replace NCIC.

NCIC 2000 will perform the existing NCIC functions augmented with new capabilities.

NCIC 2000 will increase capacity, update technology and add fingerprint and image processing functions.

NCIC 2000 will provide increased flexibility to meet future user requirements and will be easier to maintain.
---
New and improved capabilities associated with NCIC 2000 include:

Addition of image processing (i.e., mugshot, signature identifying marks).
Addition of automated single-fingerprint matching
Automation of some NCIC functions that are currently manually performed (e.g., validation, collection of benefits data).
Accsess to new databases (e.g., Convicted Person on Supervised Release).
Addition of linkage fields, providing the ability to associate multiple records with the same criminal or the same crime
Access to external databases (e.g., the Canadian Police Information Center (CPIC) and the Federal Section of Prisons' "Sentry" database).
Increased public safety communications between agencies
Automatic collection of statistics for system evaluation