Activities and Training
The NJ Youth ChalleNGe Academy is exactly that, a challenge. It is not an easy path, but it can be made easier if you enter with a positive attitude and a strong will to learn. If you are not accustomed to physical training, it is recommended that you begin some sort of physical regime before you come to the academy to help ease your transition.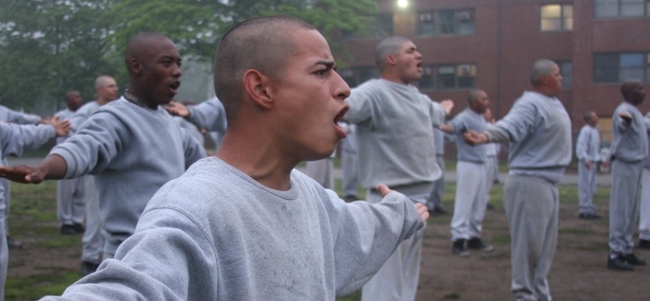 The first two weeks at the academy are known as the Acclimation Phase. For some candidates, these two weeks will be the most difficult of the twenty-two week course of study. The military aspect of the academy will be emphasized during Acclimation and the training will be intense. Students will be taken out of their comfort zones. A lot of time will be spent learning military-style Drill and Ceremonies, Physical Training and attending structured classes. You will have very little, if any, personal time. You will not have access to a telephone during the Acclimation Phase, however, you may send and receive mail from your first day through to graduation.
All of the candidates who graduate from the Acclimation Phase will advance to the ChalleNGe phase of the academy. It is at this time that candidates become cadets. At Week #3 of the academy, cadets begin attending full-day academic classes. Tutoring is available for cadets who need extra help in specific areas.
Following is the routine for a typical day at the NJ Youth ChalleNGe Academy:
Wake up at 5:00 AM and make your bunk
Take care of hygiene, get dressed and do details by 5:40 AM
Physical Training between 5:45 AM - 7:00 AM
Move to chow (breakfast): 7:05 AM - 8:15 AM
Class begins at 8:35 AM
Company Formation from: 10:06 AM - 10:21 AM
Class resumes between: 10:21 AM - 12:00 PM
Move to chow (lunch): 12:00 PM - 1:10 PM
Class resumes: 1:15 PM
Company Formation: 2:46 PM - 3:01 PM
Class resumes: 3:01 PM
Classes end : 3:45 PM
Move to chow (dinner): 4:45 PM - 6:00 PM
Homework/Study Time: 6:00 PM - 7:00 PM
Uniform Preparation Time: 7:00 PM - 7:30 PM
Personal Hygiene: 7:30 PM - 8:30 PM
Lights out at 9:00 PM
**Note: Physical Training will be held on alternating mornings and afternoons. For example, PT that is conducted on Monday morning will then be conducted in the afternoon on Tuesday and again on Wednesday morning, etc.