About NJ Veteran Journal:
The New Jersey Veteran Journal is an official publication of the New Jersey Department of Military and Veterans Affairs and is intended to serve New Jersey's veterans, their families, friends and concerned individuals and groups. All correspondence should be sent to:

Veteran Journal Editor, NJDMAVA/PA, PO Box 340,
Trenton, NJ 08625-0340

SEDER HELD AT MENLO
Story and photos by Tech. Sgt. Mark Olsen, NJDMAVA/PA
Seder was observed at the Menlo Park Veterans Memorial Home on April 14.

Each year for more than 15 years, Milton Frant, a member of the Jewish War Veterans Post 133 New Brunswick, has held a Passover Seder for the Jewish residents at Menlo Park Veterans Memorial Home. Every month he holds a Sabbath ceremony, as well as an annual Hanukkah party.

"Our Jewish residents really look forward to it," said Joseph Brandspiegel, Menlo chief executive officer.

"Since my wife passed away 18 years ago, I've dedicated my life to volunteer work," said Frant. Frant was an engineer gunner on an Army Air Forces Douglas A-20 Havoc with 50 combat missions in the Pacifi c during World War II.


Resident Mark Smolinsky talks with Ross Abramson. Smolinksy was part of the Manhattan Project team, which developed the atomic bomb.


Milton Frant, right, helps resident Evelyn Sterngart, whose husband was killed in action during World War II, recite during the Passover Seder.

---

Seder is a Jewish ritual feast that marks the beginning of Passover and is held in late March or April. The Seder service includes the narrative of the exodus from Egypt, special blessings and rituals, commentaries from the Talmud, and special Passover songs.

This year, Frant was joined by eight members of Post 133 for this particular Seder. Also assisting with the ceremony were assistant scoutmaster Alan Grossman and his son, Adam; Helene Abramson and her son, Ross; and Valentina Gordon.

According to one member of Post 133, "Milton Frant is the heart and soul of the Jewish activities here."

---
Mission of Honor rolls into Doyle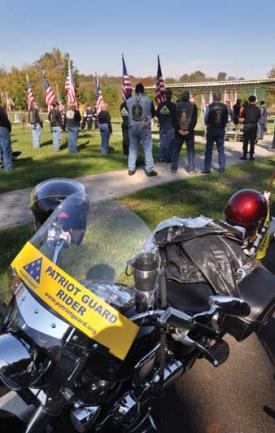 Story and photo by Kryn P. Westhoven, NJDMAVA/PA

The rumble of motorcycles broke the still of autumn day at Brig. Gen. William C. Doyle Veterans Cemetery as the unlikely sound and sight of several dozen bikes brought a trio of veterans to their fi nal resting place.
New Jersey's Mission of Honor for Cremains of American Veterans provided Air Force Vietnam veteran Michael Sullivan and a pair of World War II Navy vets, Stephen Hedman and Francis Whelan with full military burial. Their cremains were located recently in a Middlesex county funeral home.
The New Jersey Mission of Honor relies on a network of supporters from the Vietnam Veterans of America's State Council and other veteran service organizations who work with local funeral homes to ensure that the cremated remains of any unclaimed veteran will be identifi ed, claimed and interred at the Doyle cemetery. Contributions provide each veteran with an urn bearing their respective military branch of service. Additional information is available online at www.njsmissionofhonor.org.
Donations to help the cause may be sent to New Jersey's Mission Of Honor for Cremains of American Veterans, P.O. Box 263, Bordentown, NJ 08505.