---
Daily Routine
The New Jersey State Police Academy is located in Sea Girt, New Jersey, and training consists of approximately 24 weeks. The Academy is residential, and each recruit is required to report for training on each Monday at 6:00 a.m. The recruits are dismissed each Friday at approximately 6:00 p.m. Each recruit is provided a bed, linens and a locker, and will be housed in a dormitory setting consisting of ten recruits per room. The recruits are required to care for their own equipment, as well as the cleanliness and orderliness of the Academy grounds. The recruits and their quarters are subject to random inspections by the training staff, and each class stands for a formal inspection on three occasions. Each day begins with roll call at 6:00 a.m. followed by military drill and the raising of the colors. The Academy provides breakfast, lunch, and dinner each day at the mess hall. Each day recruits follow a rigorous training schedule, which culminates with lights out at 10 p.m.
---
Curriculum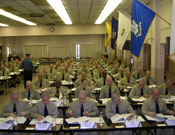 The New Jersey State Police Academy utilizes an Adult Based Learning methodology where the recruits are expected to be active participants in the learning process. Each recruit is provided a laptop computer with wireless internet access which is used for researching the numerous assignments and topics covered in the curriculum. The Academy has a full-time librarian on staff to assist recruits with research. The curriculum consists of ten units of instruction. Each unit focuses on a comprehensive aspect of law enforcement work that builds upon one another, beginning with simple tasks and culminating with complex issues. Each recruit is required to pass both a written and practical examination at the end of each unit. The written examinations require a minimum passing score of 70%. The practical examinations are hands-on scenarios that require recruits to demonstrate proficiency in the subject matter and skills covered in the unit. The curriculum relies heavily on scenario based training and research assignments. Recruits are provided with approximately a two hour study hall period every evening that is used to prepare for class, complete assignments, and study for examinations.
---
Physical Training

Designed to prepare recruits for the rigors of a career as a New Jersey State Trooper, physical training consists of approximately four two hour sessions per week. Recruits are required to take and pass four physical training tests. Endurance running is also a large part of the physical training program. Recruits begin week one with a daily 1.5 mile run which increases by 10% per week to a maximum of five miles at an 8 minute pace. Body weight resistance exercises are also used in order to increase the muscular strength and conditioning.
---
Self-Defense

Consists of approximately 20 hours of active counter measures, 28 hours of defensive tactics, and 18 hours of PR-24 instruction. Recruits are required to show proficiency in all aspects of self-defense.
---
Firearms

Teaches the recruits the proper handling and care of issued state police firearms which includes the Sig Sauer 9mm and Benelli shotgun. Recruits participate in approximately 60 hours of firearms instruction and are required to qualify on the range with each weapon.
---
Water Safety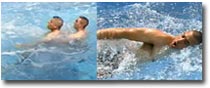 Recruits receive approximately 40 hours of water safety and life saving instruction. The water safety program focuses on proper swim techniques and basic life saving skills and water survival. Each recruit is required to complete a minimum skills test in order to participate in the water safety program. The minimum skills test consists of a 50 yard swim and five minutes of treading water. Recruits
who fail to complete the minimum skill test are given remedial instruction and re-tested.
---
Driving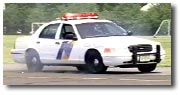 Driving consists of approximately 21 hours of instruction that takes place on a driving course designed to simulate various driving conditions. Each recruit receives 6 hours of defensive driving classroom instruction. Each recruit is required to show proficiency in the operation of marked troop transportation.