---
Lieutenant Carla Thomas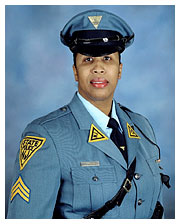 In April 1995, Lt. Carla Thomas graduated from the New Jersey State Police Training Academy. She served as a road duty trooper at various assignments including Bordentown, Wilburtha, Edison, Flemington, Somerville and Bloomfield Stations. Sgt.Thomas has assisted the Narcotics Unit and has served as a liaison between the New Jersey State Police and various law enforcement agencies over the years. Lt. Thomas was assigned to the Executive Protection Unit from 2002 to 2006 where her primary responsibility was to protect the Secretary of State and the Attorney General. She was promoted to the rank of Sergeant in September 2006. Lt. Thomas is currently assigned to the Grants Administration Bureau as a Grants Program Manager where her primary responsibility is the management of grant award funding of over $12.5 million from the National Institute of Justice and the Division of Highway and Traffic Safety.

Since high school she has been active in her community and devoted to making a difference in the lives of those often overlooked. She speaks at various schools, stressing the importance of education and giving back to the community. In 2006, Sgt. Thomas received a Proclamation from Governor Jon S. Corzine, the Captain William P. Sullivan Award and the NYNJ Asian American Law Enforcement Award recognizing her service to the community. In 2007, Sgt. Thomas received a Certificate of Appreciation from Mayor Gwendolyn Faison of the city of Camden for her commitment and outstanding efforts in assisting the students of Camden, New Jersey. In August 2008, Sgt. Thomas was the recipient of Certificates of Appreciation in recognition of outstanding and invaluable service to the community from the United States House of Representatives, the United States Senate, and the Stirling Elks Lodge #2392.

Lt. Thomas was born in Guyana, South America and was raised in Newark, New Jersey. She holds a Bachelor's degree from Rutgers University and a Master's degree from Seton Hall University. She is a proud mother of two beautiful children and in her spare time enjoys traveling and reading.