The origins of the Department of the Treasury can be traced to New Jersey's 1776 state constitution, and several collections from the State Treasurer's Office date back to the Revolutionary War period. For research purposes, the following now-defunct, executive branch departments have been grouped with the Department of the Treasury: Department of Accounts, Budget Department, Department of Municipal Accounts, State Purchasing Department, Tax Department, and Department of Taxation and Finance.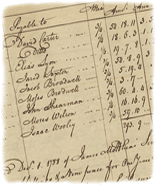 Account of Revolutionary War pay certificates, 1788. From State Treasurer's Office/ Accounts and Receipts for Payments onRevolutionary
War Depreciation Notes.