New Jersey Historical Commission Announces Grant Workshops
The New Jersey Historical Commission will be offering a series of grant workshops in February and March in support of two grant programs.
Workshops will be held in February to present guidelines for the FY 2016 round of New Jersey Cultural Trust grants for Institutional and Financial Stabilization for History and Humanities Organizations.
Workshops will follow in March for those interested in applying for New Jersey Historical Commission FY 2016 Project Grants and Mini-grants. These free workshops will provide an in-depth overview of the programs, including a demonstration of the System for Administering Grants Electronically (SAGE)
NJHC Announces New Deadlines for
FY2016 Project and Mini-grants
The New Jersey Historical Commission has set new deadlines for FY 2016 project and mini-grants. In order to get all grant funds distributed to our constituents as early as possible within the fiscal year, the Commission will offer only one project and mini-grant deadline. The Declaration of Intent deadline for the FY 2016 cycle is April 3, 2015 at 3:00 p.m. The application will be due by 3:00 p.m. on May 1, 2015. Applications that are not submitted by 3:00 p.m. on the deadline date will not be considered for funding.
FY 2016 NJHC Project and Mini-grant Guidelines
Remembering Henry N. Drewry
The New Jersey Historical Commission remembers the lasting legacy of Henry N. Drewry, who recently passed away at the age of 90. As the Commission's first African-American member and its chairman from the mid-1970s through the mid-1980's, his leadership and academic contributions as a pioneering educator at Princeton University left an indelible mark on the state's history community. In addition to guiding the Commission in the creation of the nation's first state-sponsored African-American history program in New Jersey, Henry was an accomplished author and unwavering advocate for history as a member of numerous boards and other public entities. His life and work on behalf of New Jersey will never be forgotten.
Dr. Clement Price (1945-2014)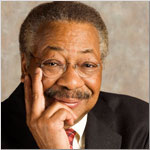 The New Jersey Historical Commission joins other arts, history, and cultural organizations across the state and nation in mourning the passing of Dr. Clement Price. A monumental figure, Dr. Price's legacy lives on in the knowledge and wisdom he bestowed, the wealth of work left behind, and the countless lives touched over decades. The Historical Commission is forever indebted to his leadership and contributions to New Jersey history, from co-founding the annual Marion Thompson Wright lecture series to enriching the discussion and understanding of the African-American experience. His kindness and humanitarianism will never be forgotten.
Best Practices for History Organizations Workshop Series
Serving Audiences in New Ways
March 24, 2015
Plainfield Public Library
9:00 a.m. – 4:30 p.m.
Serving Audiences in New Ways is the second workshop offered in a series of three learning opportunities focusing on engagement. Attendance at the Understanding Audiences workshop is not required to attend the March 24th offering.
Serving Audiences in New Ways - more information
Information from the Understanding Audiences Workshop
2014 New Jersey Historical Commission Award Winners
Every year the New Jersey Historical Commission honors individuals and organizations that make significant contributions to state history. This year's award winners were recognized at the New Jersey Forum on November 21-22, 2014 at Kean University.
Read More
Telling (untold) Histories
The first unconference in the South Jersey/Philadelphia region that will bring public historians and history organizations together to tackle difficult historical topics with the public. Explore the hows and whys of engaging subjects that challenge our audiences' expectations and expand our thinking.
For more information visit http://untoldhistories2015.wordpress.com/