Spectacular Saturn:
Images from the Cassini-Huygens Mission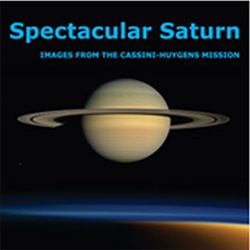 October 6, 2012 through June 9, 2013
Main Building –
1st Floor North and West Galleries
Saturn is the most distant planet we can see without a telescope. To observers on Earth, it seems to hover serenely, a jewel in the night sky. Up close, however, the view is anything but tranquil.
The NASA Cassini Spacecraft – orbiting Saturn since 2004 –has sent back astonishing images of a dynamic world of wind and lightning, rippling rings and a menagerie of moons, including Titan with its dense atmosphere, weather systems and a landscape eerily like Earth's.
This exhibition presents the images taken by Cassini and its Titan probe, "Huygens," to give you an intimate view of this amazing planet and its many moons.
On weekends after viewing the exhibition, be sure to visit the Planetarium and experience the newest show, Saturn: Jewel of the Heavens. Saturday and Sunday at 3 pm; tickets $7/adults, $5/children 12 and under.