Size Matters: Small Works from the Fine Art Collection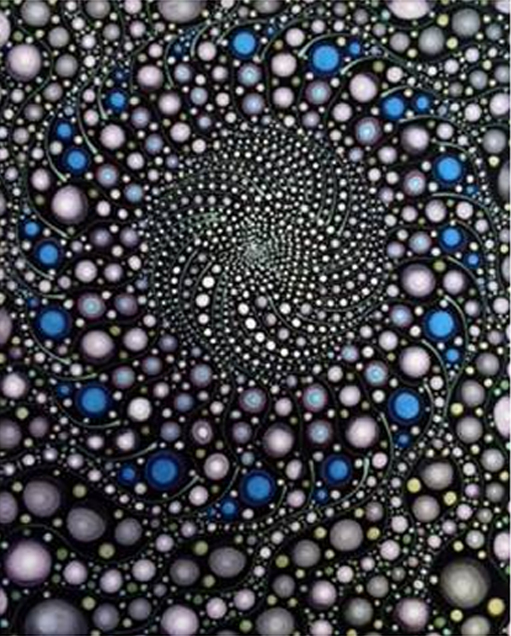 August 26 through December 30, 2012
Main Building – Second Floor Riverside Galleries
Barbara Takenaga (b.1949, American)
Blue and Violet Wheel (2010)
Acrylic on Wood Panel
Museum Purchase through a Gift from Mr. & Mrs. Stanley Switlik
FA2012.5.4
Drawn from the 13,000 works of art held in trust by the State Museum, "Size Matters: Small Works from the Fine Art Collection," explores the power of works created in small format. The exhibition includes American paintings, prints, drawings, photographs, constructions and sculpture from the 19th to 21st centuries.
The size or scale of works of art is certainly an important component to the viewer's experience. "Size Matters" developed while the Museum's Fine Art curator was reviewing the collection for research on another topic. A number of small works that made strong visual statements emerged. These initial works, often overlooked due to their relatively small size, included art by Charles Ward, Max Weber, Lenore Tawney, and particularly, Oscar Bluemner. The power of these works provoked a more extensive and thoughtful review of other small works in the collection.
In addition to the artists mentioned above, the exhibition includes works by Ben Shahn, Jackie Winsor, Roy Lichtenstein, Reginald Marsh, Dox Thrash, Elsie Driggs, David Ambrose, Dahlia Elsayed, Gaston Lachaise, Paul Cadmus, Gregory Van Maanen, William Wegman, Berendina Buist, Marsha Levin-Rojer and John Marin, among others. The only criteria that was strictly applied to selected works was that they be no larger than a 12-inch image in any dimension.
Unlike miniaturized objects, none of these pieces is cute or precious. Each is fully realized, speaking in a direct, clear and precise voice. The viewer simply needs to take the time to move in, look closely and consider how much size matters.