Celebrate Halloween at the New Jersey State Museum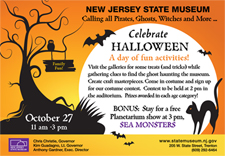 Calling all Pirates, Ghosts,
Witches and More!
Saturday, October 27, 2012
11 am to 3:00 pm
Celebrate Halloween with a day of fun activities at the Museum. Visit the Galleries for some treats (and tricks?) while gathering clues to find the ghost haunting the Museum.
Explore the activity center in the west gallery to create New Jersey Inspired Halloween craft masterpieces. Don't forget to come in costume and sign up for our costume contest! The contest will be held at 2:00pm in the Museum Theater. Each child will have a chance to parade across the stage and show off their costume creations. Prizes will be awarded in 6 categories.
11:00 am to 3:00 pm
Ongoing:
build your own monster
create a spooktacular haunted house
make and wear a pirate hat
trick or treat in the galleries
go on a ghost hunt in the galleries, collecting clues from each treat station
Timed activities:
check-in and sign up for the Costume Contest 11:00am to 1:30pm
Costume Contest parade 2:00pm to 2:30pm
Costume prizes awarded 2:30pm
FREE Planetarium Show!
Sea Monsters: A Prehistoric Adventure - 3:00 pm
Eighty million years ago, the American Midwest lay under a great inland sea where colossal creatures ruled the waves, from giraffe-necked Styxosaurus and sea birds with teeth to the "T. rex of the Ocean", the 40-foot super-predator Tylosaurus. This National Geographic program immerses audiences in this unexplored world of the "other dinosaurs."
Meet up with a family of Dolichorhynchops as they swim through waters with prehistoric sharks and squids brought to life in our Planetarium's full-dome immersive theater. Then see the real Plesiosaurs and Mosasaurs in our newest exhibition, Natural History Highlights, located in the Museum's main gallery. Sea Monsters is recommended for ages 6 and up.