Wonderful World's Fair Family Day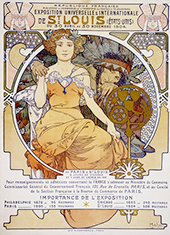 Saturday, August 30, 2014
10:00am to 4:00pm
Celebrate the wonder of World's Fairs! Join the New Jersey State Museum for a family fun day.
Explore our exciting new exhibit New Jersey on Display: World's Fairs and the Garden State then grab an ice cream on the front lawn and stay for FREE hands-on crafts, workshops and activities that will explore the importance of World's Fair inventions.
Planetarium shows will run throughout the day at a reduced cost of $3.00/person. For more information, please call 609-292-6310 or 609-292-6464.
Join us for:
The Jersey Family Fun Booth

Learn how to make a bookmark craft and play a fair game to win prizes!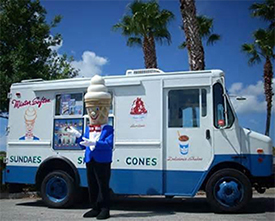 Mister Softee Ice Cream!
Grab an ice cream on the front lawn!
Paper Cup Telephone
The first official World's Fair to be held in the United States commemorated the 100th anniversary of the nation's independence and turned Philadelphia into a hotbed of culture and innovation. A number of world-changing inventions debuted at the 1876 Centennial Exposition, but probably the biggest was the first public showing of Alexander Graham Bell's telephone.

Bell had just patented the device, and set it up in the huge Machinery Hall. At one end, a bearded man spoke into the horn, and fair officials were startled to hear his words come out, clear as day, from a speaker at the other end. It was the talk of the fair, and revolutionized communications as we know them.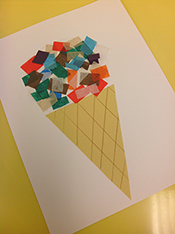 Ice Cream Cone
The history of the ice cream cone is steeped in mystery, with many different people credited as its inventor. Nonetheless, historians generally agree that the St. Louis World's Fair greatly popularized the practice of serving ice cream in edible cones.
In 1903 – the year before the fair opened – Hoboken resident Italo Marchiony patented a device for making edible pastry "cups" to hold ice cream. According to some accounts, Marchiony traveled to St. Louis to popularize his invention. At the world's fair, his ice cream cups inspired another vendor to roll a biscuit-thin waffle into a cone shape, which served the same purpose. The ice cream cone was born.
World's Fair Button
Artwork holds a special place in World's Fair History. Everything from posters to souvenir buttons to postcards reflected various styles of art and design. Design your own World's Fair button.
Star Chart
The 1964 New York World's Fair embraces the future of Space Exploration. See a video of a space landing in the Planetarium. Make a star chart.
$3.00 Planetarium Shows All Day!

1 p.m.
-
One World, One Sky
2 p.m.
-
Laser Kid Power
3 p.m.
-
Black Holes
Shows and Times are subject to change.