2013 Distinguished Service Award Recipient
Roger Kumpel
View the Commemorative Video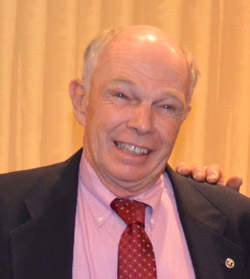 Third-generation farmer Roger Kumpel has spent his life advocating for the New Jersey agriculture community.

Roger, his wife, Ruth, and their family, own 110 acres and rent 150+ acres in Southampton Township, Burlington County, growing hay, long straw, grain and vegetables. Their farm is in the farmland preservation program and they've taken on conservation projects; the installation of a pivot irrigation system is underway.  They are in the process of upgrading their facility with new technology for the purpose of food safety.  And, recently, they also equipped one of their large tractors with GPS; auto-guidance and auto steering.     

Kumpel never fails to lend a hand when a member of the agricultural community needs assistance.  In 2007, when then-Governor Jon Corzine planned to eliminate the Department of Agriculture, Roger stepped forward and was one of those instrumental in organizing a tractor parade in front of the State House in Trenton to highlight the devastating impact closing the agency would have on New Jersey agriculture.  Ultimately, those efforts paid off and the plan was abandoned. 

Again, when the Burlington County Freeholders were contemplating no longer funding the Rutgers Cooperative Extension office, Roger helped organize the farming community against such a move. 

Service to agriculture and his community have been mainstays in Kumpel's life.  He was a member of the State Board of Agriculture, serving as President from 2009 to 2010; served on the Burlington County Board of Agriculture for eight years, serving as Secretary for one year; and was on the Rutgers University Board of Managers for six years. 

Kumpel served on the Watershed Management Area 19 Public Advisory Committee, serving as Vice President for one year, Burlington County's Route 130 Delaware River Corridor Extension, Route 206 Farmbelt Corridor Agricultural Viability Task Group; the Southampton Township Agricultural Advisory Board and Environmental Committee; and the Pinelands Ag Advisory Committee. He is a Farm Bureau member and Alternate Director for Burlington County for many years and is a member of Vincentown #67 Grange.

For Roger's energy and selfless dedication to preserving the agricultural heritage of New Jersey, he is recipient of the 2013 State Board of Agriculture Distinguished Service to Agriculture Award.