Tor Andersen Outstanding Young Farmer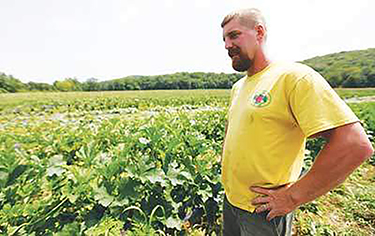 Tor Andersen knew from a young age that he wanted to be a farmer. The fact that his family did not own a farm did not stand in the way of him realizing that dream.
Tor's love for farming began at a young age when he helped on his best friend's dairy farm, cleaning stalls and helping to milk cows. In high school, he worked at Ideal Farms, where he learned to operate machinery, as well as how to grow vegetables, hay and other plants. He then went on to graduate with a degree in Agronomy from the State University of New York College of Agriculture and Technology, Cobleskill.
In 2003, he began growing greenhouse tomatoes, which he sold wholesale to restaurants and farmers markets. By 2008, he opened a garden center in Sussex and started growing annuals and perennials. He then was able to purchase a farm in Sparta in 2014, which was put into farmland preservation to permanently preserve the property.
He also eventually bought a farm market that had been in business for over 50 years. That helped expand his business to having two farm stands, a garden center and attending weekly farmers markets in several local communities.
Andersen Farms employs more than 30 people, and also sells local honey, cheese, bottled milk, eggs, Christmas trees and other items. The farm also benefits from agri-tourism, as it has had thousands of people visit its 15 Acre Sunflower Maze Scavenger Hunt.
Tor says he is thankful to his parents for helping him get started in farming, as they were willing to sell their house and help him to buy a 120-acre farm. Tor says he is constantly learning and depends on Rutgers University to help manage plant disease as well as implement pest management strategies. He also says that the Farmland Preservation grant helped the family pay off loans and expands its business.
Water and soil conservation also have played a major role in his farm's success. Soil conservation practices allow him to create soil that is rich in organic matter so that his plants can thrive. He also receives a detailed soil report each spring, which helps him understand what is needed to create the best growing conditions.
Tor is supported in his farming efforts by his wife, Nicole, who also has a passion for the industry. They have four daughters – Anya, Greta, Elsa and Elin – between the ages of 9 and 4. Nicole is also active in the community, including speaking at local schools about the importance of healthy eating and supporting local farming.
Tor also is active in the community, having been a member of his local church for more than 30 years, and serving as a member of the Sussex County Chamber of Commerce since 2014.
Tor Andersen now owns 400 acres, a garden center and produces more than 20,000 tomato plants, 20 different kinds of fruits and vegetables, 100 acres of field corn and 300 acres of hay on his Sussex County farm.