Swine Enteric Coronavirus Disease (SECD)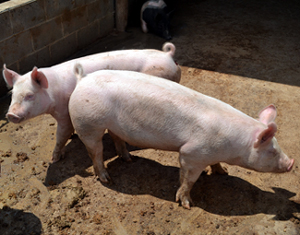 Swine Enteric Coronavirus Disease (SECD) is an emerging disease in the United States. SECD infection causes acute diarrhea that can lead to dehydration and eventually death in baby pigs, and tremendous financial loss for pig farmers.
It refers to two disease agents:
Porcine Epidemic Diarrhea Virus (PEDV)
Porcine Delta Corona Virus (PDCoV)
Both of these disease agents have been present in other parts of the world for years and were not present in the United States prior to 2013. After entering the United States, the SECD viruses have spread rapidly throughout the country.
What are the clinical signs of SECD?
How is SECD spread?
How long does the virus survive in the environment?
How is SECD diagnosed?
SECD is a reportable disease
How can SECD be prevented from infecting my farm?
Links
What are the clinical signs of SECD?
Once a farm is infected with SECD, it causes acute diarrhea that spreads to pigs of all ages. Vomiting and listlessness may also be exhibited. The number of animals affected can reach 100% of the herd. The mortality rate is the following:
Baby pigs: 100%

Nursery pigs: 5-15%

Finisher pigs: 1-2%

Sows: <1% mortality, 5-10% abortion rate
The initial outbreak of the disease can occur within 24 hours of exposure and the clinical signs can last from 7-28 days.





How is SECD spread?


Spread of the virus is by the fecal-oral route. Animals must ingest the virus from infected feces. The virus is shed in large numbers in the feces of infected animals. Any object that is contaminated with pig manure (vehicles, people, clothing, shoes, shovels and other animals) can be sources of infection.





How long does the virus survive in the environment?


The viruses can survive in the environment for a long time. Studies have determined that the viruses can survive for the following times:
7 days: water, dry feed and fresh feces

28 days: frozen manure and wet feed
The survival of SECD in the environment is enhanced by low temperatures, moderated humidity (50%) and neutral or mildly acid pH (6.5).





How is SECD diagnosed?

Because the clinical signs of SECD infections can look like other gastrointestinal diseases that affect pigs, laboratory testing is the only way to confirm SECD. The New Jersey Animal Health Diagnostic Laboratory (AHDL) can help if you or your veterinarian suspects SECD infection in your pigs. A State/Federal cooperative program exists that may subsidize laboratory testing for SECD. Producers submitting samples for diagnostic testing must include the Premises Identification Number (PIN) for the specific site where your animals are located. The PIN can be obtained from the NJDA website located under Forms. More information on which samples to submit for testing can be found on the AHDL website or by calling the laboratory (609-406-6999).





SECD is a reportable disease

A Federal Order issued on June 5, 2014 requires the reporting of SECD to the State Veterinarian (609-671-6400) or USDA-APHIS-VS (609-259-5260). Once a herd is confirmed positive (having both the signs of SECD and a positive test) State and USDA veterinarians will work cooperatively with you and your veterinarian to develop a Herd/Premises Management Plan. The goal of the Herd/Premises Management Plan is to decrease the shedding and spread of SECD. Click here for more information on the USDA-APHIS-VS Herd/Premises Management Plan for SECD.





How can SECD be prevented from infecting my farm?

SECD Biosecurity Training Manual

The following biosecurity measures will help prevent the introduction of SECD viruses onto your premises.
1. Incoming animals can bring the SECD viruses onto your farm.
Only buy replacement animals from known negative herds or buy animals that test negative for SECD. Talk to your veterinarian or the NJ AHDL about testing for SECD.

Isolate (in a separate area of your farm away from general traffic flow and other animals) and monitor new arrivals for one week for any sign of diarrhea.
2. Vehicles can carry the SECD viruses on the tires and undercarriage
Limit vehicle access on to your premises.

Haulers should come with a clean truck

Vehicles should park as far away as possible from pig areas.

Establish a

Line of Separation

that should not be crossed.

When hauling pigs to markets and sales, vehicles must be washed and disinfected before returning to your premises.

When cleaning vehicles, first remove any dirt and manure with detergent and water. Then mix and apply disinfectants (according to label directions) that have been shown to be effective against the SECD viruses.
3. People, including yourself and visitors, can bring SECD viruses onto your farm.
Limit visitors to your farm.

Establish a Line of Separation or a Clean Crossing and prevent visitors from crossing.

All visitors must wear clean clothing and shoes. Provide disposable plastic boots and coveralls for visitors to wear.

Enforce a minimum 24 hour downtime between visits to locations housing live pigs. Downtime is the time away from other livestock including fairs, shows, sale barns, or other locations that house live swine.

Avoid visiting other animal facilities that may be contaminated with SECD such as pig farms, livestock markets, slaughter plants, pig shows or feed stores. If you do visit these places, change your clothing and shoes before entering your animal facilities.

When bringing animals to fairs and exhibits, refer to the following links for more information.
4. Fomites such as clothing, shoes, pets, rodents, wildlife and pest can carry SECD
Keep pets such, as dogs and cats, away from pig areas.

Be diligent in controlling pests and rodents around pigs and their surroundings.

Regularly clean and disinfect all equipment that is in contact with pigs.
5. Contaminated feed can bring SECD viruses onto your farm
Avoid last minute deliveries.

Buy enough feed ahead of time so you can hold feed for two weeks before feeding.

Click here for information on feed delivery biosecurity.

Links