Fresh Fruit and Vegetable Program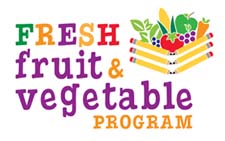 The Fresh Fruit and Vegetable Program exposes school children to new, healthier foods and increases their fruit and vegetable consumption, ultimately leading to lifelong dietary habits.

The federal program, which came to New Jersey for the first time in the 2008-2009 school year, provides fresh fruits and vegetables to students on a regular basis.

Click here for the 2017-2018 FFVP Application Packet.
Background
The United States Department of Agriculture program was initiated as a pilot in 2002 in four states and one Indian Tribal Organization. Legislation in 2004 made the program permanent.

The federal Farm Bill, which became law in June of 2008, expanded the fruit and vegetable program to all 50 states.

Click here for more on the history of the program.
Basic Rules of the FFVP
Only fresh fruits and vegetables can be purchased and served to students.
Serving of the fresh fruits and vegetables may only take place during the academic school day and not during the breakfast or lunch meal periods or during after school programs.
The program should be offered throughout the entire school year and offered as many times as possible during the school week.
The FFVP funds cannot be used to purchase nutrition education materials and promotional activities cannot be funded by the FFVP.
Qualifying for the FFVP
Schools must have 50 percent or more of the students eligible for free or reduced price meals.
Schools must attempt to purchase locally grown fruits and vegetables.
The program must be well-publicized and all students must have access to the produce offered.
Schools must partner with outside organizations to enhance nutrition education.