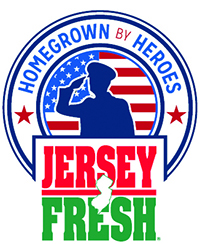 Homegrown By Heroes (HBH) is a marketing/branding program that provides farmer veterans a distinctive label they may affix on their agricultural products to be displayed to the consumer at point of sale. The label will inform consumers that the product was produced in the United States by a veteran who served our country in the military. New Jersey has become an official state partner of the Homegrown by Heroes program to promote the HBH label within our state.


What is "Homegrown By Heroes"?
"Homegrown By Heroes" (HBH) is a certification label to enhance the value of military veteran grown products. It is designed to augment any branding already used by an FVC member. In 2014 in an agreement with the Kentucky Department of Agriculture, the Farmer Veteran Coalition began certifying the use of "Homegrown By Heroes" for eligible veterans and active duty service members, bringing the label to all 50 states and US territories.

Who is eligible to use "Jersey Fresh Homegrown By Heroes"?
Any veteran or active duty member of the United States Armed Forces, having served honorably, without regard to age or era of duty.
Participating veterans must demonstrate a minimum 50% ownership stake and at least 50% managerial control of the farm business that produces goods on which the mark will appear. FVC's staff will be prepared to help each veteran meet these qualifications.
Visit the Homegrown by Heroes website for additional eligibility requirements and to apply. Or to learn more about eligibility and supporting paperwork requirements, email HBH@farmvetco.org.
In addition to applying for HBH, you must be registered with the Jersey Fresh Quality Grading Program. The Jersey Fresh logo indicates that the contents have been inspected and meet the highest quality standards. This inspection also adds a quality assurance note to the overall Jersey Fresh marketing program that is welcomed by wholesale produce buyers and consumers who want high quality products that are uniformly sized and consistently packed. Visit the New Jersey Department of Agriculture website for more information and to apply.

Why join the label?
A national label on your products can allow you to charge a premium on your product. Certified HBH producers receive priority consultation support for food safety, business and personal financial advice, legal advice and career development advice through FVC. Also, HBH producers receive marketing support, including collateral and other marketing materials at minimal cost. Finally, FVC's national HBH marketing campaign will create national and local exposure to the HBH label for producers to leverage.
To learn more about the program and apply, visit the Farmer Veteran Coalition.