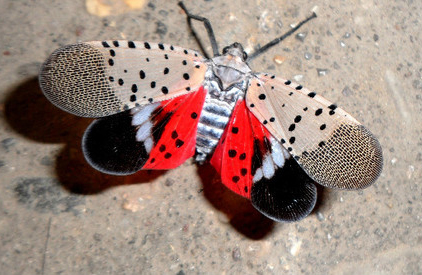 If you are in one of the quarantined counties of Burlington, Camden, Gloucester, Hunterdon, Mercer, Salem, Somerset or Warren, you do not need to contact the New Jersey Department of Agriculture about Spottted Lanternfly sightings. Spotted Lanternfly locations in unquarantined counties in New Jersey can be reported to the Department by emailing slf-plantindustry@ag.nj.gov or by calling 609-406-6943.
The Department appreciates residents reporting the addresses of Spotted Lanternfly sightings and assisting us in keeping this pest from spreading. While we will not return confirmation calls and emails at this time, the information provided to us is important in our mission against the Spotted Lanternfly.
If you are able to eliminate the Spotted Lanternfly, please do so.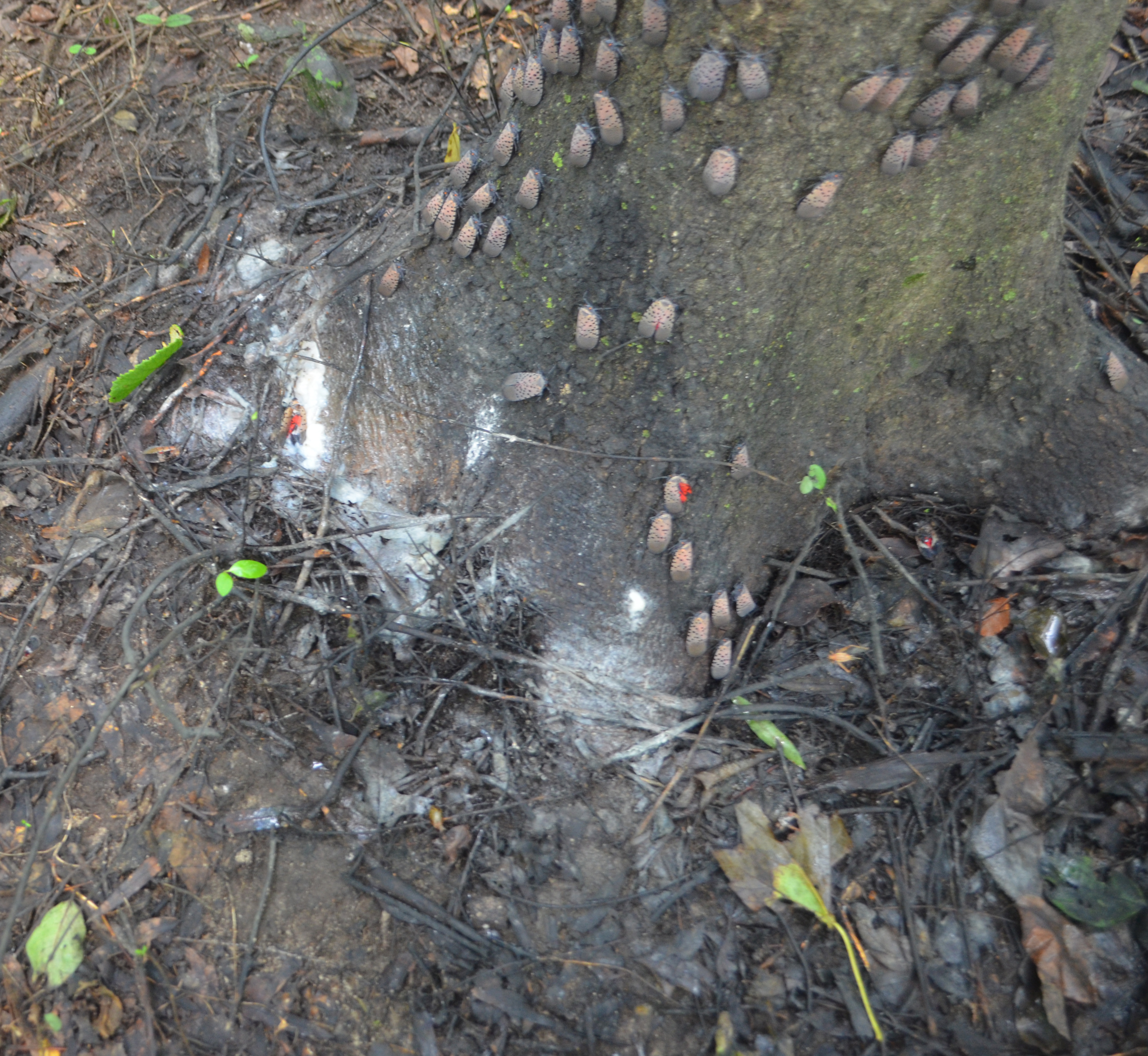 Homeowner Resources
What can you do to help? "Join The Battle, Beat the Bug"
This insect is an excellent hitchhiker and is easily moved if no one is looking. If you are in the quarantine area, please "Look Before You Leave."
Inspecting your vehicles, trailers, or any outdoor items before you move around or out of a quarantine zone is important. If possible, don't park in tree lines and keep windows rolled up when you park your vehicle. Know the life stages of the insect and when to look for them.
Using the recommendations developed by Penn State Extension, survey your own property. Any efforts you make in destroying the Spotted Lanternfly or it's egg masses helps your property and community.
Reports are registered in a database for the USDA. The database is used to help determine properties for treatment. Treatment is based on location, risk, and available funds. Join the effort to control and prevent the spread of Spotted Lanternfly. We need everyone to protect their properties and communities from this invasive insect.
Treatment Options
For Landscape And Nursery Businesses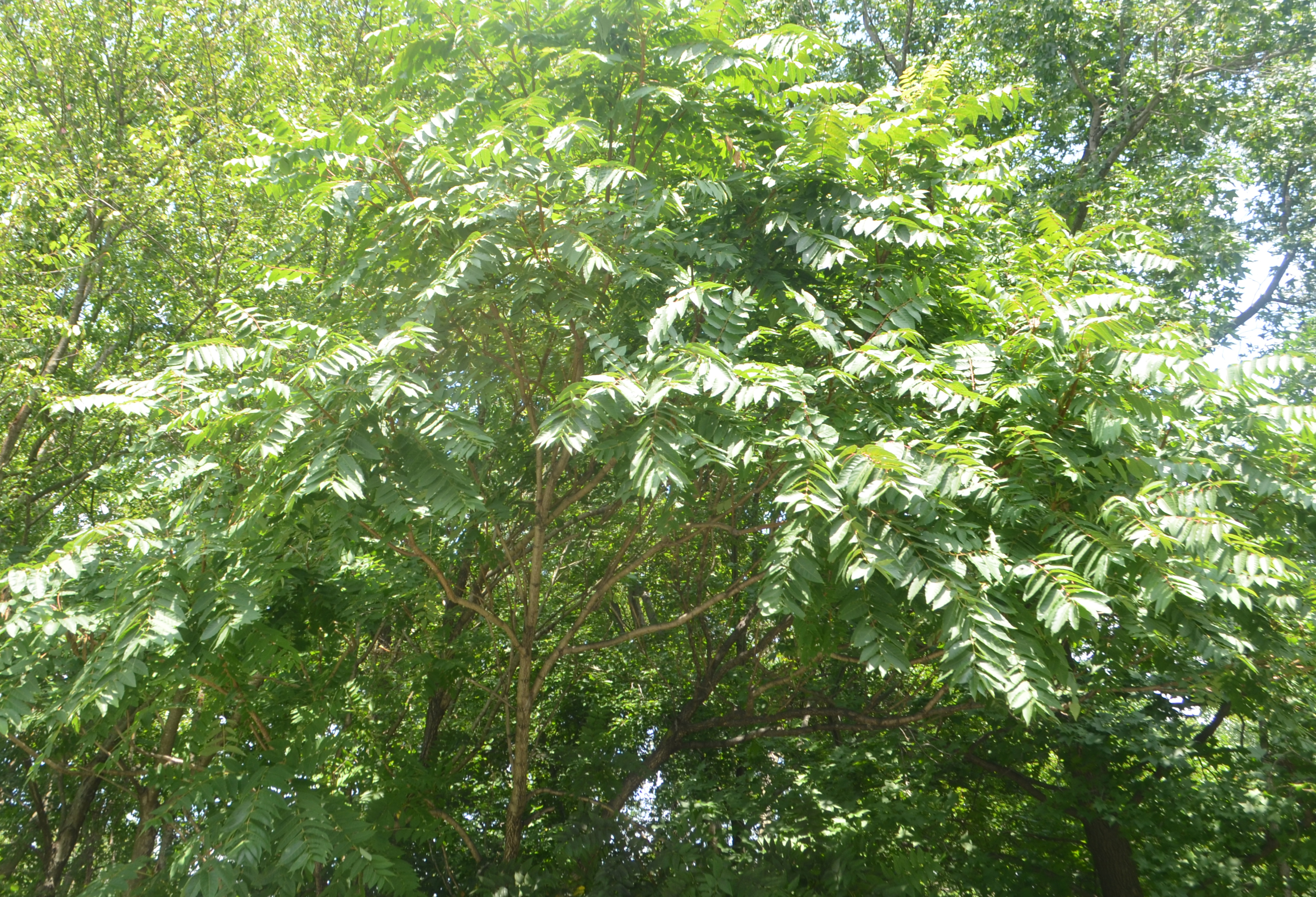 Mature Tree of Heaven

Control Options
Controlling Tree of Heaven: Why it Matters
Spotted Lanternfly: Management Options Through The Seasons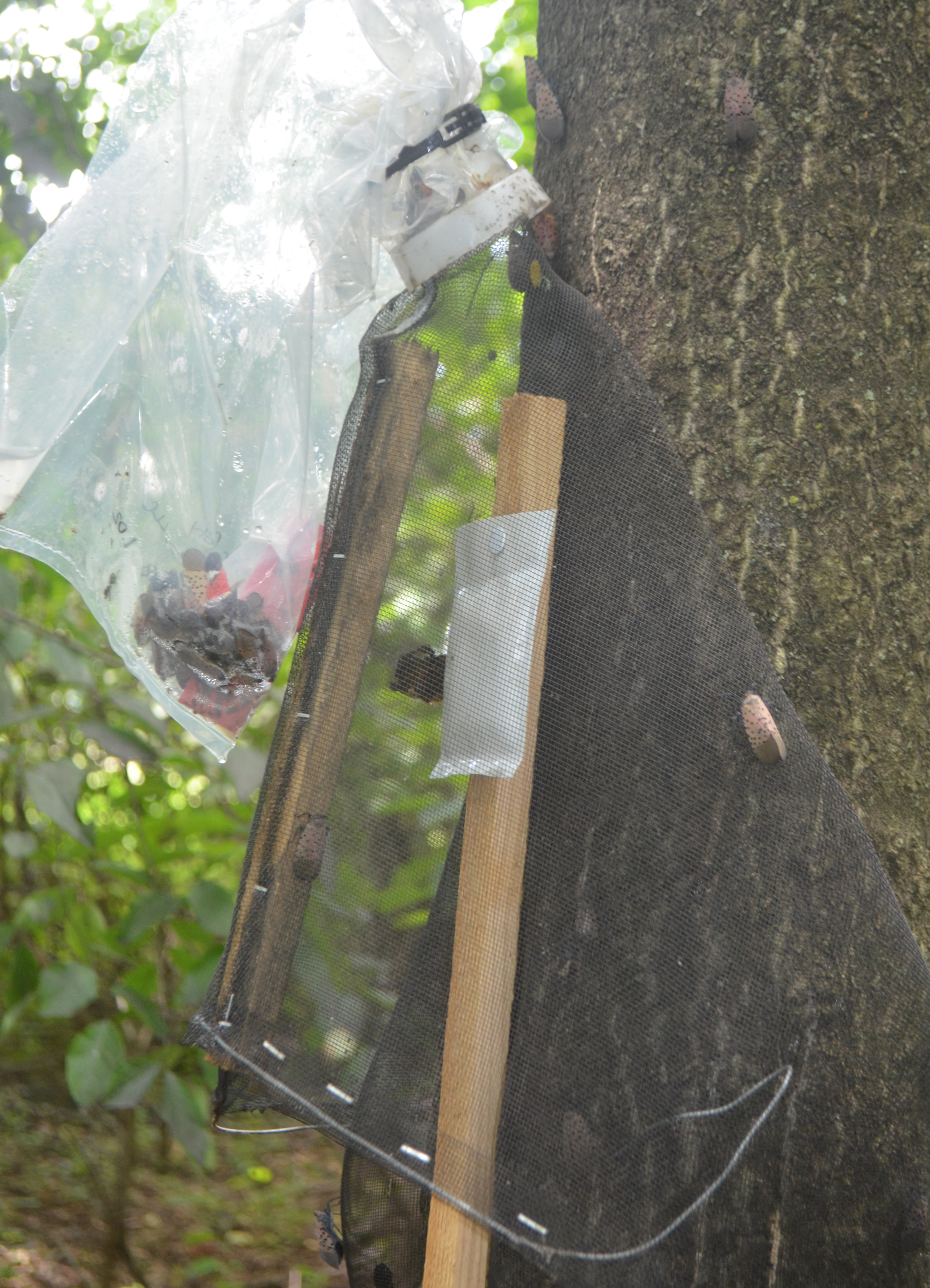 DIY Trap
DIY Spotted Lanternfly Circle Trap
YouTube videos
What can Property Owners Do About The Spotted Lanternfly
Spotted Lanternfly - Identification And Life Cycle
How To Remove Spotted Lanternfly Egg Masses
Regulated items
New Jersey Residence Checklist (English)
New Jersey Residence Checklist (Spanish)
NJDA Spotted Lanternfly Crews

If a crew from the NJDA requests to search an outdoor area, they will be wearing easily identifitable attire as shown below. The crews will only request to search outdoor areas where the Spotted Lanternfly has been reported and will not request any personal information other than to confirm the name of the property owner.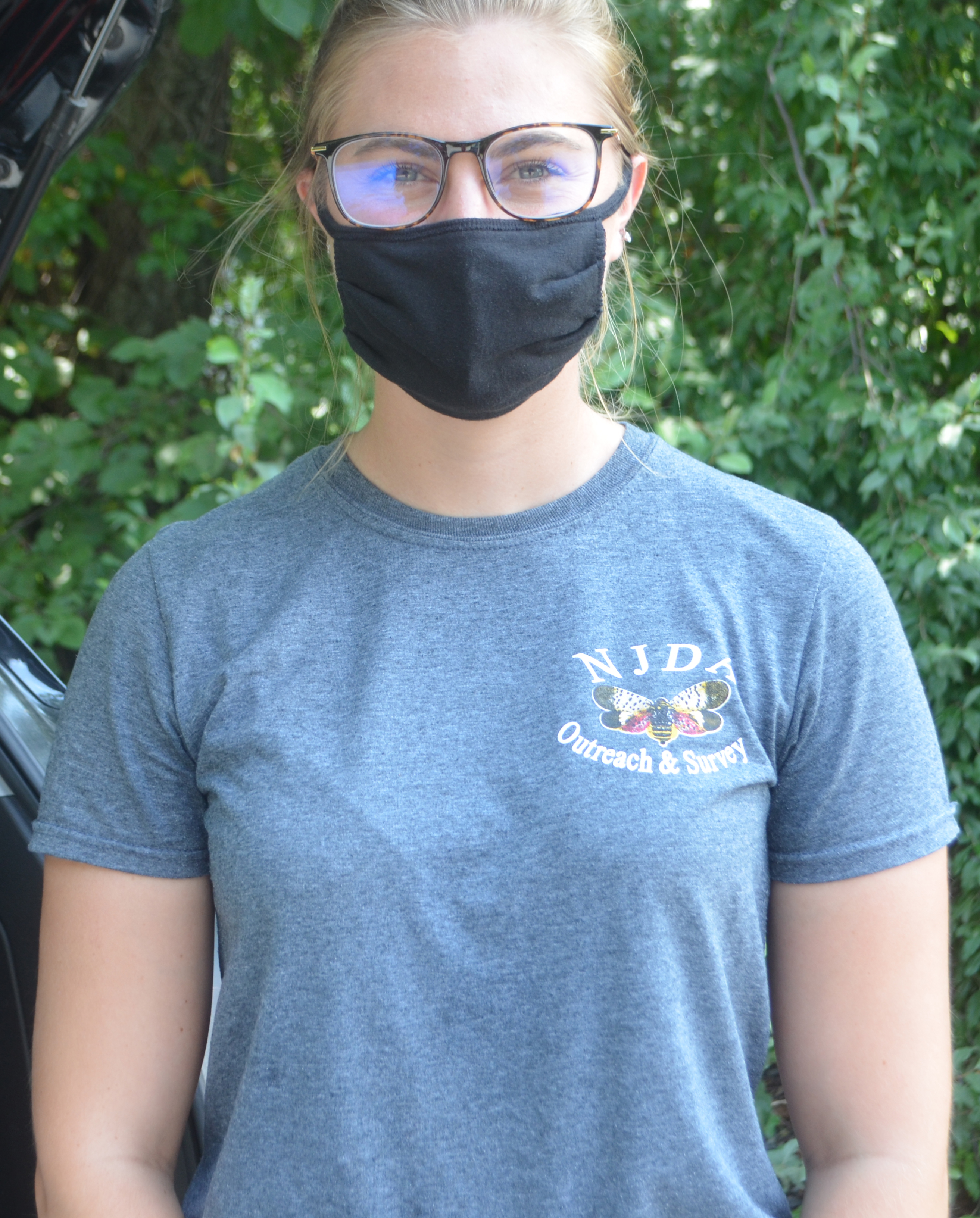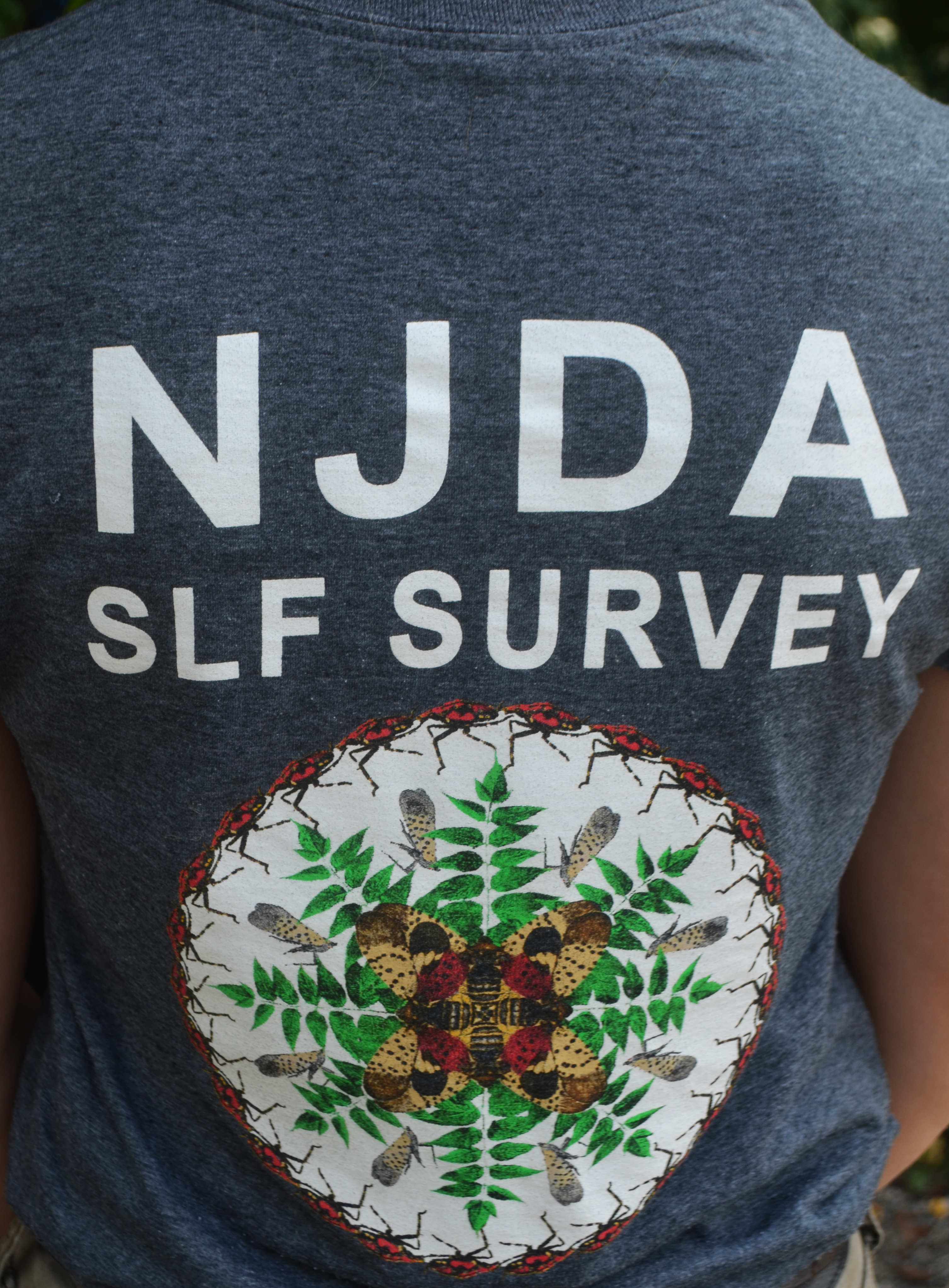 Permits
New Jersey Spotted Lanternfly Permit Training
New Jersey Spotted Lanternfly Permit Participants
Business Resources
General Business Permits

Green Industry Permits
Regulations
NJ Spotted Lanternfly Quarantine Regulation

General Information
Spotted Lanternfly Informational Handout (English)
Spotted Lanternfly Informational Handout (Spanish)
Spotted Lanternfly Stages And Trees Where It Can Be Found
Background
Spotted Lanternfly (SLF), Lycorma delicatula, is an invasive planthopper native to China, India, and Vietnam, it is also established in South Korea, Japan and the U.S. It was first discovered in the U.S. in Pennsylvania in Berks County in 2014 and has spread to other counties in Pa., as well as the states of New Jersey, Delaware, Maryland, Virginia and West Virginia. This insect has the potential to greatly impact agricultural crops and hardwood trees. While it does not harm humans or animals, it can reduce the quality of life for people living in heavily infested areas.
Life Stages
The Spotted Lanternfly evolves through life stages as it matures. Below is a look at those stages.

Nymphs
There are four nymphal instars. The first three instars are black with white spots and wingless. They appear in this stage beginning in the spring and through early July.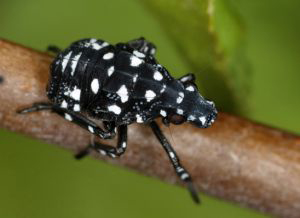 The fourth instar has red wing pads and an upper body. They appear in this stage from about mid-July through mid-August.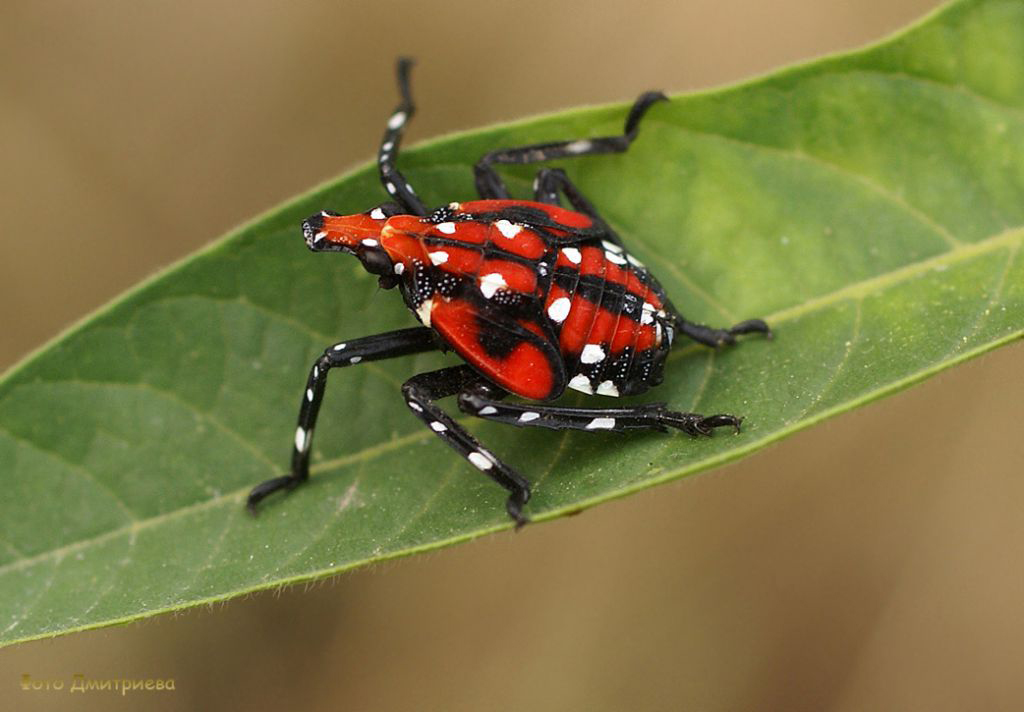 Adults
The forewing is gray with black spots of varying sizes and the wing tips have black spots outlined in gray. They become full-grown adults in about mid-August.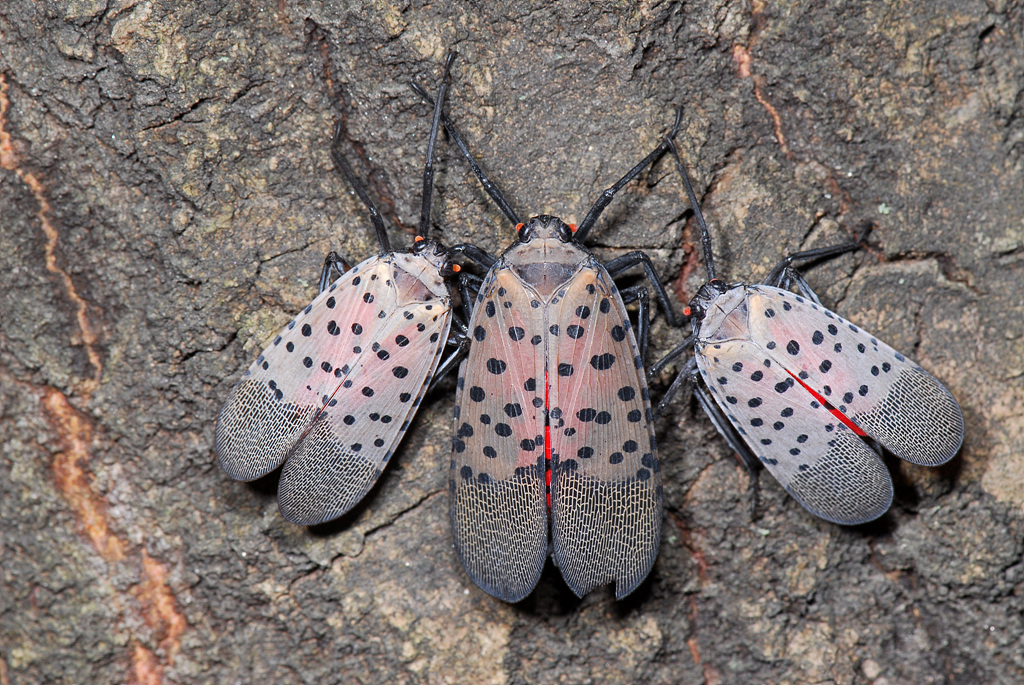 The legs and head are black, and the abdomen is yellow with black bands.
Hind wings have contrasting patches of red and black with a white band.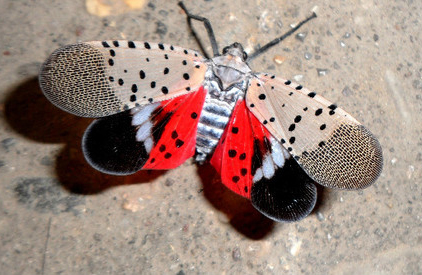 Egg Masses
While adult the adult Spotted Lanternfly does not survive the winter, the egg masses do. Egg masses contain 30-50 eggs. Females can lay up to two eggs masses.
An egg mass is approximately 1 inch in size and 80 to 90 percent of egg masses on trees are found 10 feet above the ground.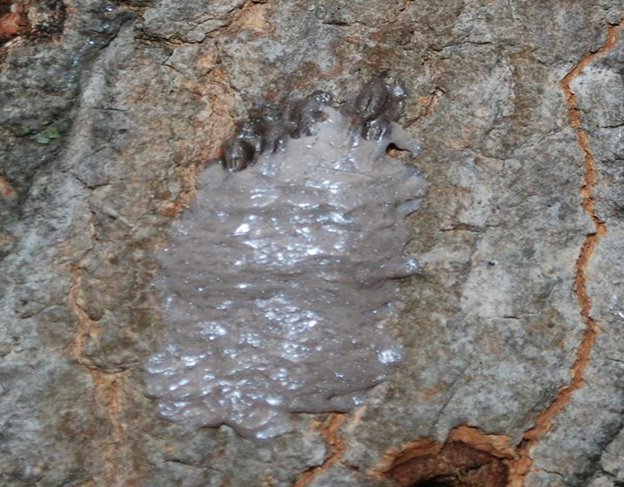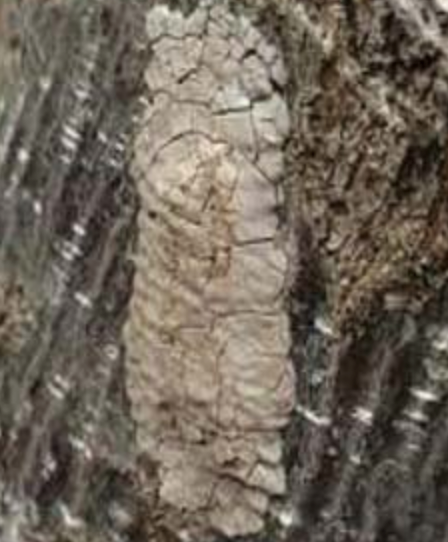 Spotted Lanternfly Host Information
While the Spotted Lanternfly prefers the Tree of Heaven (Ailanthus altissima), it feeds on a variety of host plants including fruit trees, ornamental trees, woody trees, vegetables, herbs, grains and vines.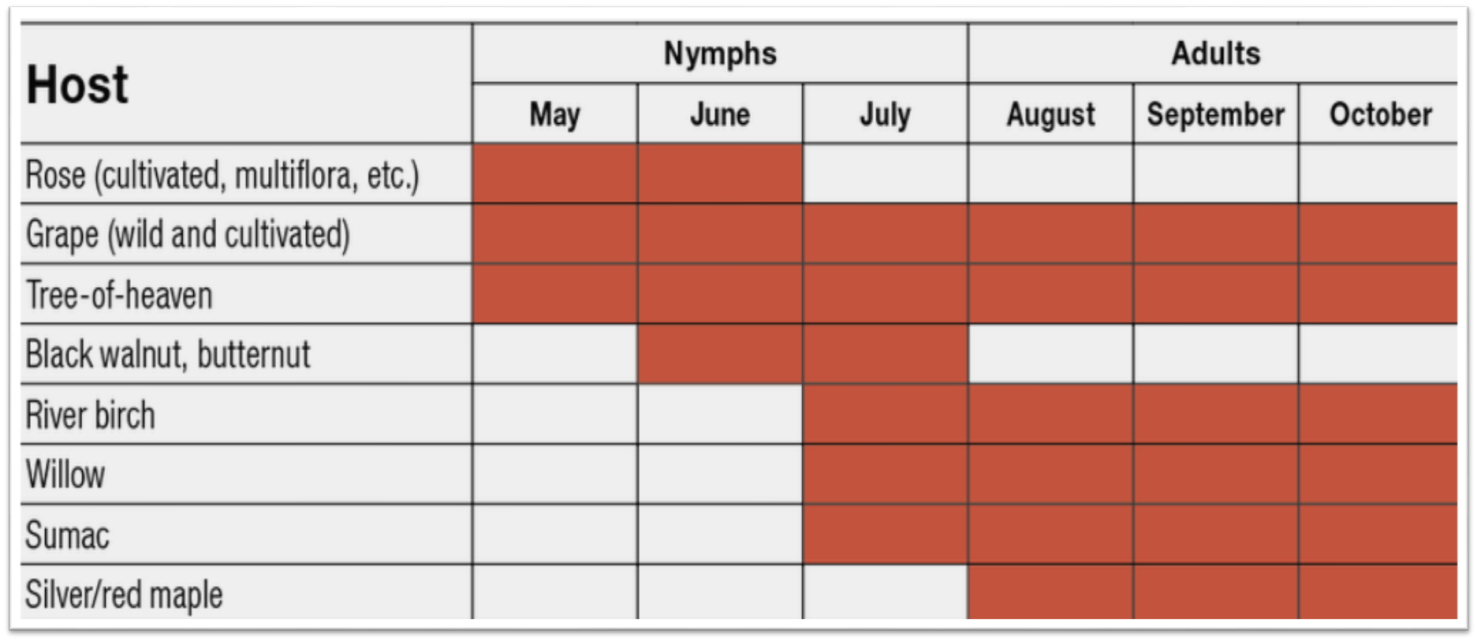 https://njaudubon.org/how-to-correctly-distinguish-invasive-tree-of-heaven-from-native-sumac/
https://moodle.cce.cornell.edu/mod/page/view.php?id=12563
Quarantine
New Jersey Spotted Lanternfly Quarantine For General Audience
New Jersey Map (quarantine counties in red)