Robert C. Von Thun, Jr., a fourth-generation vegetable/small fruit/flower farmer from Monmouth Junction, Middlesex County, was honored as the Outstanding Young Farmer earlier this month at the 86th State Agricultural Convention in Atlantic City.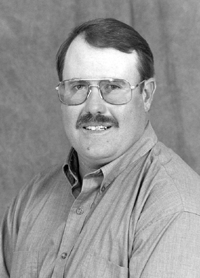 The award is presented annually by State Board of Agriculture to recognize the outstanding achievements of a young person engaged in farming in New Jersey. The Von Thun family began farming in 1913 on 90 acres, selling their grain and potatoes through wholesale markets. In 1986, Robert Von Thun formed a partnership with his father and added 55 acres of soybeans and 35 acres of vegetables to the farm's production. The vegetables were sold at the farm's small retail market. In order to expand his customer base and gain additional marketing exposure, Von Thun branched out into "entertainment" farming, holding various festivals throughout the year and gearing the activities toward children. Since 1990, Von Thun has held agricultural education sessions each year and as many as 10,000 children from pre-school through second grade visit the farm. The children learn about agriculture, the food system and natural resource management during their visits. Von Thun's emphasis on marketing has led him to double the size of his retail market and add a petting zoo for children along with pick-your-own opportunities, hayrides and festivals. He attends six urban tailgate farm markets during the season and also sells his products directly to independent supermarkets. The farm's web site tells customers the history of the farm and advises them of the schedules for tailgate markets, seasonal activities, festivals and special events. Recordkeeping is critical to Von Thun's farm management and development. Marketing records include advertising strategies and yearly festival comparisons of income, profits and attendance at each event. As a result of his attention to these details, attendance at his fall festival rose from 1,500 in 1994 to over 6,000 in 1999. The expansion of his greenhouse production to 25,000 square feet and its profitability also relies on good recordkeeping. Conservation of natural resources and sustainable agriculture is of the utmost importance to Von Thun. Manure generated by the farm's livestock is used to fertilize the soil, which are some of the most productive in New Jersey. Management practices such as grass waterways, side dressing of fertilizers and installation of drywells in the greenhouses to recapture and manage water have been implemented along with trickle irrigation which has reduced water consumption by as much as 80 percent and reduced fertilizer costs by 20 percent. Through a combination of education and public outreach, Von Thun has been able to help create an informed public that supports our diverse agriculture industry. Von Thun serves as a positive role model for youth by following the FFA motto -- "learning to do, doing to learn, earning to live, living to serve." Community service is an important aspect of Von Thun's life. He supports his church, local youth organizations, schools, and other community businesses. He has been active in numerous organizations, including the Middlesex County Board of Agriculture, the Vegetable Growers' Association, the Chamber of Commerce, the 4-H Leaders Association, local school PTO, and FFA. Von Thun has received the Honorary FFA Degree; Friend of FFA Award; General Assembly Resolution plaque for community service and agricultural industry involvement; the Middlesex County Friend of 4-H Award; and the Community Service Award from the Bethany Baptists Church.
Von Thun's wife Cindy shares in all aspects of work on the farm and in the community. An agriculture education teacher, last year she received the FFA Advisor of the Year Award. Their three children, Timmy, 8; Kristie, 5; and Kellie Ann, 2; are the fifth Von Thun generation to grow up on the farm.