Six leaders of New Jersey's agriculture industry were presented with citations for distinguished service at the 86th State Agricultural Convention which was held in Atlantic City earlier this month. The awards are presented annually by the State Board of Agriculture to those individuals who have made significant contributions to agriculture in New Jersey. This year's honorees included Henrietta S. Dreyer, Cranford, Union County; Peter J. Furey, Moorestown, Burlington County; James E. Johnson, Pennington, Mercer County; Donald M. Kniffen, Sr. (posthumously), Somerville, Somerset County; Senator Robert E. Littell, Franklin, Sussex County; and Warren J. Welsh, Newton, Sussex County. "This year's awards were presented to individuals who have made outstanding contributions not only to agriculture but to their communities as well," Agriculture Secretary Art Brown said. "We are grateful to them for their years of dedication and hard work to improve New Jersey's agriculture industry."

Biographies of the award winners are attached.

---
HENRIETTA S. DREYER
Since her birth on a farm in Springfield, New Jersey in 1913, Henrietta S. Dreyer's love of agriculture has been a driving force in her life.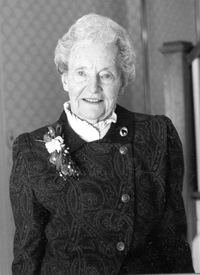 After graduating from Newark State Teacher's College, Dreyer taught school for nine years. One of the key concepts she instilled in her pupils was the importance of agriculture to each of their lives. Her two sons, Henry and John, learned this lesson well and have remained on the farm which they now run. In addition, her granddaughter, Jessica, has just received her degree in horticulture from the University of Massachusetts and has joined the family farm. Dreyer has combined her teaching career with her love of agriculture through her active participation in the Ag in the Classroom program. Over the years, she has hosted tours of the farm and roadstand for more than 3,000 children. The Dreyer Farm celebrated its 95th anniversary last July. During that time, four generations of Dreyers have worked the land. Dreyer's role of Secretary/Treasurer of Dreyer's Farm continues to this day. She still works at the farm stand which marked its 50th year of operation in 1999. Dreyer joined the New Jersey Farm Bureau in 1942. Since then, she has served as a member of the Board of Trustees, been Union County's representative to the Farm Bureau's Women's Committee since 1968, and served on the Board of Directors for six years. She also served as a delegate and alternate to the State Agricultural Convention for eight years. Dreyer was named Farm Bureau Woman of the Year in 1981 and received the Arthur West Distinguished Service Award to New Jersey Farm Bureau in 1991. A member of the Union County Board of Agriculture since 1938, she served one term as President and has been the membership Chairwoman since 1975. She was made an Honorary Member of the Union County FFA Chapter in 2000. Locally, she is active in the Historical Societies of both Cranford and Springfield and has been a trustee of the Cranford Historical Society for more than 22 years. Dreyer is a member of the First Presbyterian Church of Cranford where she has served as deacon and as a member of the Board of Trustees. She is also a member of the Cranford Business and Professional Women's Association. A strong supporter of local garden clubs, she has often served as a speaker for many of their programs.
---
PETER J. FUREY

Peter J. Furey has been an advocate for New Jersey agriculture for well over 20 years. Born in Haddonfield, New Jersey in 1951, Furey graduated from the Commerce School of Washington & Lee University, Lexington, VA, with a bachelor of arts in economics in 1973.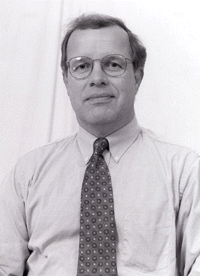 He began his agricultural career with the New Jersey Department of Agriculture in 1979 as the Project Director for the Grassroots Farmland Preservation Project. Furey joined the New Jersey Farm Bureau in 1981 and has served as its Executive Director since 1982. Among his responsibilities are the management and direction of daily operations of the Association on behalf of its 18,000 members. This includes developing and, once approved, representing its public policies concerning farmers and production agriculture in the state. Furey works closely with state legislators, agencies of state government, congressional offices, university and research professionals, agribusiness corporations, news media, local governments, allied trade associations, and member farmers throughout the state. He has played an important role in the passage of numerous pieces of legislation at the state level, including the Agriculture Retention Act which created the Farmland Preservation Program, the Right to Farm Act, and appropriations acts which funded the Agricultural Economic Recovery and Development Initiative's grant programs. While at the Farm Bureau, Furey has overseen the growth of its membership from 4,000 to 18,000 members. He designed and supervised the implementation of an innovative computerized membership database and electronic communications with farmer-members as well serving authoring its newsletter, "This Week in Farm Bureau," the most widely read farming publication in the state with a weekly circulation of 6,000. Furey also supervised the $1 million renovation of historically-significant West State Street headquarters of the Bureau. In 1995, Furey was the recipient of the McCloy Fellowship from the American Council on Germany for Agriculture. Furey is a Trustee of the Moorestown Youth Baseball Federation, a member of the Moorestown Environmental Committee and an informal advisor to the Mayor and Council on recreational field development. Furey and his wife Kristine reside in Moorestown with their children, Colleen (18), Dennis (15), and Michael (11).
---
JAMES E. JOHNSON

James E. Johnson's many and varied contributions to agriculture in the Garden State reflect his lifelong devotion to the industry.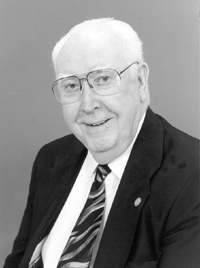 Born and raised on the family farm in Pennington, Johnson was a manager at the Farmers' Cooperative Association of New Jersey from 1946 until 1975 when he became manager of Farmers' Brokerage and Supply, retiring in 1987. During his tenure with Farmers' Brokerage and Supply, Johnson instituted instant receipt of Chicago Board of Trade quotes via satellite dish receiver and made sure that grain bids were broadcast on radio and available by telephone 24 hours a day, 7 days a week. Johnson's agricultural affiliations and volunteer service to agricultural organizations is well known. As member of the Lawrenceville Grange #170; the Mercer County Pomona Grange #5; the New Jersey State Grange; the National Grange, Johnson has held a number of leadership positions. He served as Chair of the Legislative Committee and Past Master of the Lawrenceville Grange. He was elected to 17 consecutive two-year terms on the Executive Committee of the New Jersey State Grange and served as the committee's chairman as well. Throughout his membership in the New Jersey State Grange, Johnson has worked to ensure policy coordination between the Grange, the New Jersey Farm Bureau and the New Jersey Department of Agriculture so that the three groups speak with one voice on behalf of the industry. Johnson has devoted countless hours to the development of the New Jersey Museum of Agriculture in New Brunswick and has served as both trustee and first vice-president. He received the Museum President's Award for Service and was responsible for implementing the popular antique tractor and Amish quilt raffles, which are major fund raisers for the Museum. A long-time member of the New Jersey Agricultural Society, Johnson was a member of the Public Information Policy Committee which suggested the Society's logo and motto, "Agriculture Keeps New Jersey Green." Johnson is also a long standing member of the New Jersey Farm Bureau where he now serves as convention coordinator; past president of the Princeton Agricultural Association; trustee of the Howell Living History Farm; a charter member of the New Jersey Soybean Industry Advisory Council; a member of the Mercer County Board of Agriculture; and a certified mediator for the State Agriculture Development Committee's right-to-farm program. Johnson is a recipient of the Mercer County Board of Agriculture's Distinguished Service to New Jersey Agriculture Award. Johnson has also found time to serve his community having been a member of the Hopewell Valley Regional Board of Education, for which he received their Award for Service, and of the Hopewell Township Republican Committee. He also served in the U.S. Army 8th Air Force from 1943-1945. Johnson and his wife Mardella have a son, James, daughter in law, Kathleen and granddaughter, Julia.
---
DONALD M. KNIFFEN, SR.

Donald M. Kniffen, Sr. dedicated most of his life to furthering New Jersey's livestock industry. After earning a Bachelor of Science degree in Animal Science from West Virginia University and a Master of Science degree in Animal Science from Rutgers University, he served as an associate professor and extension specialist in animal science with Rutgers/Cook College and the Rutgers Cooperative Extension Service for over 37 years. Kniffen served as President of the New Jersey Angus Association, Secretary-Treasurer of the Sheep Breeders Association, Director of the New Jersey Beef Industry Council and member and secretary/treasurer of the New Jersey Polled Hereford and Angus Associations. Kniffen was also an active member of the New Jersey Hampshire Association and the National Cattlemen's Beef Associat
ion. Cattle, sheep and swine producers all along the East Coast called upon Kniffen for advice and expertise. Here in the Garden State Kniffen provided guidance and assistance to two generations of livestock producers. He was instrumental in creating and implementing the Spring and Fall Feeders Calf Sales, the New Jersey Wool Pool, the State 4-H Baby Beef Show and Sale and the New Jersey State 4-H Lamb Show and Sale. He judged many local 4-H youth livestock shows as well as regional and national events. He became a Professor Emeritus at Rutgers University and was honored by the establishment of the Don Kniffen Annual Beef Showmanship Award. During World War II, from 1944 to 1946, he served in the United States Navy as a Gunner's Mate, Third Class, on the USS Noa. Kniffen was a devoted husband to Gail and father to Donald Jr. and Daniel. The State Board of Agriculture was deeply saddened by the death of Donald M. Kniffen, Sr., and the entire agriculture community mourns the loss of this dedicated advocate.
---
ROBERT E. LITTELL

Senator Robert E. Littell has been a dedicated friend and strong advocate for the agricultural community for more than 31 years.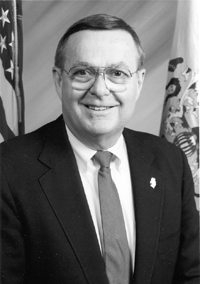 A lifelong resident of Sussex County, Littell was educated at Franklin High School and the Hun School in Princeton. In the Senate, Littell chairs the Senate Budget and Appropriations Committee and serves as co-chair of the Joint Budget Oversight Committee. Always cognizant of the important role farming plays in so many New Jersey communities and of the industry's impact on the local economies, Littell has frequently sponsored budget language and legislation which has had significant positive impacts on the agricultural community. Included among these major pieces of legislation are the creation of the Commission on Open Space, which provided the recommendations that led to the establishment of the Garden State Preservation Trust; amendments to the Farmland Assessment Act to broaden the application of law to more of the agriculture industry; appropriations for the Agriculture Economic Recovery and Development Initiative, the Emergency Disaster Relief Act of 1999, the New Jersey Museum of Agriculture and the Farmland Preservation Program; and legislation that will ultimately enable New Jersey to join the Northeast Interstate Dairy Compact. At the local level, Littell is a member of the Sussex County Peace Officers Association and American Legion Post 132 in Franklin and an exempt member of the Franklin Volunteer Fire Department. He has also served as chairman of local fund-raising efforts for the American Cancer Society, the Association for Retarded Citizens, and the March of Dimes in Sussex County. In September 1996, he became a trustee of Centenary College and was awarded an honorary doctorate of laws degree. In January of this year, he was awarded an honorary doctorate of humane letters from the New Jersey Institute of Technology. Littell served in the New Jersey Assembly from 1967 to 1990. He also served three years with the Marine Corps during the Korean War. Littell and his wife Virginia have a daughter, Alison, a son, Luke, and a grandson, Logan. Senator Littell owns a working farm in Sparta Township, Sussex County, that has been in his family for over 200 years.
---
WARREN J. WELSH

As Sussex County's agricultural agent for 35 years, Warren J. Welsh worked tirelessly to improve the county's agriculture industry and gave countless hours of his time to furthering community programs.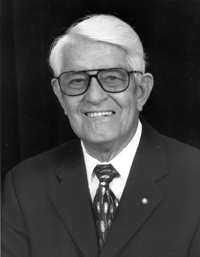 With a Bachelor of Science degree in agriculture from the University of Nevada, Welsh began his career in 1950 as an Assistant Extension Agent, retiring from the Rutgers Cooperative Extension Service as Senior County Agent in 1985. Throughout his career, he worked for the Sussex County Farm and Horse Show (SCFHS), beginning as a volunteer assistant secretary for the show and serving now as executive secretary and advertising committee chairman. Welsh served on the 1963 site selection committee which oversaw the purchase of the 126-acre fairgrounds and spent the next 10 years helping develop the fairgrounds' layout. He was one of four individuals who personally secured a $13,000 loan to build the first pole barn on the fairgrounds in 1977.
At the SCFHS, Welsh was instrumental in developing a number of new fair venues, including an art show, photography show, baby parade, pet show, wood-chopping contest, chick show, landscape competition and greenhouse displays. SCFHS Agriculture Division volunteers continue to raise $50,000 each year for agriculture buildings at the fairgrounds. In recognition of his service to the SCFHS, Warren's Way, a road on the fairgrounds, was named after him. As a member of the International Association of Fairs & Expositions (IAFE), Welsh served as an IAFE Agriculture Awards Judge and on a variety of regional and national agriculture planning committees. He received Hardee's American Heritage Award from the IAFE in 1996. Welsh has received many awards for his contributions to the agriculture industry, including the John Gerwig Outstanding Career for Furthering Educational Program Award in 1985; the Sussex County Honors Award in 1986; and the Sussex County Soil Conservation Service Award in 1995. A recipient of the Coop Milk Producers Service Award, he also received the SCFHS Years of Service Award Trophy in 1997. Welsh was named a Rutgers Professor Emeritus in 1985. A member of the New Jersey Farm Bureau since 1950, he has served on the Sussex County Agriculture Development Board since 1978 and on the Sussex Vo-Tech Commission from 1963 to 1973. He served as Sussex County Soil Conservation Service District Secretary from 1950 to 1970, on the Sussex County College Commission from 1964 to 1970 and as director of the Sussex County Skylands Division of Tourism from 1989 to 1993. Locally he has been a member of the Newton Rotary Club since 1953 and was named Rotarian of the Year in 1965. Welsh served as Rotary International Group Study Exchange Tour Leader to Argentina in 1967. In 1968 he started the Rotary Youth Exchange Program in District 747 which is still active today. In 1971-1972 he chaired a Group Study Exchange Program with Australia. Welsh served Rotary International as District Governor in District 747 in 1969-1970.
A member of the Newton Presbyterian Church and a church elder in 1970, he also worked on the Newton Memorial Hospital Fund Drives and was on the Newton School Board from 1965 to 1975. Welsh served with the U.S. Air Force from 1942-1946 in Iceland and India. Married to the former Letitia Gamble for more than 50 years, their daughter, Linda, and her husband, Ronald Zalme, have three children, Jessica, Warren and Owen.