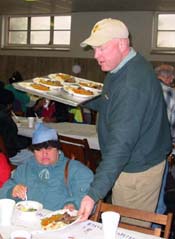 (VINELAND) – New Jersey Agriculture Secretary Charles M. Kuperus today urged New Jersey citizens and communities to continue efforts to help the hungry in the state as he visited a soup kitchen at Covenant Presbyterian Orthodox Church in Vineland to view the operation and offer his support for the efforts of the volunteers who give their time every week to feed hot meals to between 50 and 90 people.
"We must understand that hunger is a year-round problem," said Secretary Kuperus. "Therefore, it is essential that we continually raise awareness about the problems encountered by the neediest residents in our communities, who rely upon soup kitchens and food pantries to survive."
The soup kitchen at Covenant Presbyterian Church operates on Thursdays
and is one of four daily soup kitchens organized by Spirit and Truth Ministries to feed the hungry of Vineland. On Fridays, they offer bagged lunches at Sacred Heart Church in Vineland.
The New Jersey Department of Agriculture contracts with six emergency food organizations throughout the state to distribute federally donated food to needy individuals and families through a network of 650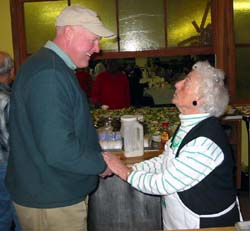 local soup kitchens, food pantries and homeless shelters. The Emergency Food Assistance Program (TEFAP) in 2003 served 1,421,462 recipients and provided 3,895,679 meals at soup kitchens and shelters.
In New Jersey, 14.8 percent of children under 18 live in poverty. Two out of every five people receiving emergency food are children. One out of every five is elderly, living on a fixed income. The remainder is adults that are working or unable to find work due to a crisis situation.
"For some, these local soup kitchens are the only opportunity to get a hot meal," said Secretary Kuperus. "The people who donate their time, money, and food items to make this possible are to be commended. More people need to get involved to help battle hunger."