(PLAINFIELD) – New Jersey Agriculture Secretary Charles M. Kuperus today joined the Union County Board of Agriculture, county garden center and nursery owners, and Rutgers Master Gardener volunteers in giving a garden to a pre-school in downtown Plainfield, kicking off the 2005 Jersey Grown program and celebrating National Garden Month's theme of "Give a Garden."
The volunteers planted Jersey Grown annuals and perennials donated by 11 Union County garden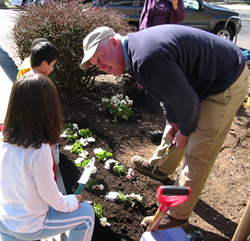 centers and nurseries at The King's Daughters Day School.
"The Jersey Grown branding program has taken off in popularity, as New Jersey gardeners and residents favor plants, trees and shrubs that are grown by New Jersey farmers," said Secretary Kuperus. "The plants used in this garden are grown to thrive in New Jersey soil and climate and will serve to beautify this community for many years to come."
Jersey Grown certified plants, trees and shrubs ensure that the products were grown in New Jersey, are disease and pest-free, and are checked for quality. This is the second year of the Jersey Grown branding program. Twenty-three growers in the state are currently Jersey Grown licensed.
"This project captures the essence of national gardening month," said David Williams, President of the Union County Board of Agriculture. Williams is owner of Williams Nursery in Westfield and organized donations for the event. "It is an exciting project to combine the agriculture resources of our county and the energetic support of the Rutgers Master Gardeners to provide a gift of a garden to an urban location that has lots of kids that will appreciate it. Using quality Jersey Grown plants in the garden will assure long-term success."
Four volunteers from the Union County Master Gardener program were planting the garden leading up to the front door of the center and abutting a side of the building. Since 1987, Master Gardeners have received in-depth training in horticulture from Rutgers University faculty and professional staff. As part of the training, Master Gardeners are required to volunteer a certain number of hours in their community in programs sponsored by Rutgers Cooperative Extension.
Madeline Flahive-DiNardo of the Union County Master Gardener program said Master Gardeners in the county have participated in community beautification projects in Plainfield, Elizabeth, Fanwood and various county parks. They also operate a help-line for home gardeners at (908) 654-9852.
"Being three blocks from the center of Plainfield, this garden is a great opportunity to show what a garden can add to an urban area," said Valeria Erdosi-Mehaffey, Executive Director of The King's Daughters Day School. "The garden will add to the aesthetic beauty of the community and also serve as an educational tool for the children, who will learn more about their natural environment."
Union County garden centers and nurseries that donated plant material for the garden include: A & A Landscape in Kenilworth; Amberg Perennial Farm in Scotch Plains; Bartell's Farm & Garden in Clark; Dreyer Farms in Cranford; Ferraras in Westfield; Hall's Garden Center in Berkeley Heights; Mieles Greenhouses in Clark; Millstone Lawn & Garden in Maplewood; Plainview Growers Instant Color in Pompton Plains; Schieferstein Farm Market in Clark; Truesdale in Berkeley Heights; and, Williams Nursery in Westfield.
Horticulture is the largest sector of New Jersey agriculture, producing high quality plants, trees and shrubs for use in our state and throughout the region. Nursery, sod and greenhouse sales in New Jersey totaled $367.8 million in 2003. There were 1,290 certified nurseries in the state in 2003 with more than 18 thousand acres of nursery stock.
In support of the horticultural industry, the Department of Agriculture launched a Jersey Grown website (
www.jerseygrown.nj.gov
) last fall, featuring helpful and interesting information, both for consumers and the industry. Visitors can search for nurseries, garden centers, gardens and arboretums. They also can access gardening tips and fact sheets. For the horticulture industry, there is a listing of Jersey Grown suppliers and a downloadable Jersey Grown application.
"Based on the success of the popular Jersey Fresh branding program for produce, we are expecting Jersey Grown to become more well-known each year, especially when Jersey Grown stock is showcased in downtown gardens, like the one in Plainfield," said Secretary Kuperus. "Planted through the cooperation of private and public entities, this garden exemplifies how working together, we can keep New Jersey agriculture green and growing."